2017 YEAR IN REVIEW
This year's top stories in New Jersey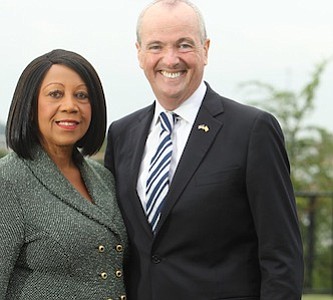 A setback is a set up for a comeback. This will likely become the mantra for New Jerseyans when reflecting on 2017. As we ushered in the new year following the stunning November, 2016 election of New York City business mogul Donald Trump as president, Garden State residents and most of the country faced the start of 2017 with trepidation. The sense of disbelief and dismay was palpable. The consternation caused by something so unexpected turned to outright horror as the frequently irascible and occasionally uncouth Trump made multiple threats hinting at destabilizing the country. He cited plans to cut and eliminate safety net programs; promised to deport and denounced immigrants and other citizens; and admonished and threatened to destroy perceived adversaries. With words uttered out of context, and explanations laced with fire and fury, Trump seemed intent to target anyone and anything that disputed or disagreed with his directives. The caustic tone emanating from the
White House indeed laid the foundation for a confusing and chaotic 2017.
Media reports documented the tumultuous nature of it all. As major news sources and independent fact checking organizations began compiling lists of lies and alternative facts from the man whose role is responsible for the nation's leadership, sorting through the fallout continues and extends right here to New Jersey.
Legislators Rally to Save Signature Obama Legacy
New Jersey political heavyweights Senator Cory Booker and House of Representative member Bonnie Watson Coleman were at the forefront of Democrats and some moderate Republicans across the country to stave off hardcore efforts by the new Trump administration to dismantle the legacy of former President Barack Obama. Their major focus was on maintaining universal health care coverage through the Affordable Care Act (ACA) – more commonly called Obamacare. In January, Trump appointed Georgia Republican and frequent critic of the ACA, Thomas Edmunds Price, as U.S. Secretary of Health and Human Services. Price and most Republicans fought hard to repeal the ACA, citing as persistent problems the costs and alleged ineffectiveness of the program. Democrats, however, led by the celebrity caliber of the outspoken statesman Booker, pushed back even harder. They promoted the benefits of the ACA for its affordability and a basic necessity for Americans who would otherwise be without healthcare under an obscure insurance replacement option proposed by the Republicans. Watson Coleman said, "I'm so disturbed about this administration coming in." Booker went further in his assessment, saying: "The trap that they're in is that Obamacare is actually working for millions of Americans, and the Trump administration doesn't have a plan to replace it." The effort to repeal and replace Obamacare ultimately failed—twice-- in large part due to Booker and Watson Coleman's steadfast efforts. More than 20 million Americans enrolled in the ACA—including millions in New Jersey, will continue to enjoy peace of mind in the foreseeable future with access to ongoing coverage for a range of health needs.
Flint Water Worries Trickle to New Jersey
The flippant phrase, "Don't drink the water," became a somber reality this year when the simple task of getting a glass of water became risky business for millions of Americans, including many in New Jersey. The ongoing crisis in Flint, Michigan raised eyebrows nationwide when it was discovered that city residents in mostly impoverished and African American communities were exposed to high-lead content in water for at least two years, due to an illicit local and state government backed plan to save money. Thousands of people got sick and some died. Several politicos were indicted, and the city was awarded a $97 million settlement to replace contaminated water lines.