The Year of the Complete –Self
Work It!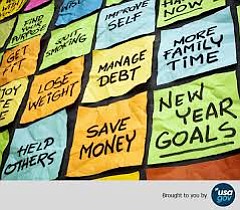 It is essential to the success of this challenge that upon rising in the morning you consciously think and/or say aloud "This is going to be a good day and I look forward to it." Feel good about it before you even get out of bed. If you pray do it; if you meditate do that. Be kinder to everyone, including yourself. Hug and smile at your loved ones. Tell them you love them. Remember to show appreciation and gratitude for both grand and simple gestures. Dance, move, walk, and climb stairs every day. Intend to do your best in all that you do at work and at play. Be cooperative, honest and generous.

Regarding your finances, put as much money as you can each week into a savings can, box or account. It doesn't matter how much and it may vary week to week depending upon what your best efforts allow. It may be one to five dollars some weeks and occasionally be $50 or more, something--anything, just get into the habit of putting money away. Continue to save for an important need in subsequent years like buying a home, paying off debt and education; or treat yourself or family to something nice at the end of the year.
The point of all of this is to create the habit of intentionally improving the overall quality of our lives rather than just one aspect of it. Therefore remember to declare that, "Everyday my life gets better and better and I do my best each day". You are worth it.
Best wishes in the New Year.
Carlotta Daniels-Randolph, M.Ed. M.Ed. is a workforce development professional with 20 years' experience in the public and private sector and an administrator and adjunct instructor at Delaware County Community College.