The Year of the Complete –Self
Work It!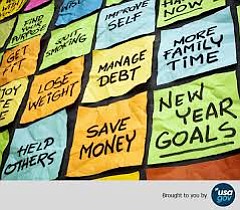 I appreciate the feeling of a new beginning that is afforded to us at the advent of the New Year. It feels like an opportunity to put things right, start over, enhance, amend, regroup and recommit. Accepting that we each sit in the driver seat of our lives is the driving force behind any actions that can lead to accomplishing anything we set out to do. Many of us set our sights on self-improvement as is tradition and it is typically singular like weight loss or improved nutrition. The process of creating goals or making resolutions to do better is a healthy and practical thing to do in our lives; however, statically it is short lived and fewer than half of us achieve our goals.
Below are the top New Year's resolutions for 2017 according to Statistic Brain Research Institute:
Rank
Top New Year's resolutions for 2017/Percent:
Lose Weight / Healthier Eating/21.4%
Life / Self Improvements/12.3%
Better Financial Decisions/8.5%
Quit Smoking/7.1%
Do more exciting things/6.3%
Spend More Time with Family / Close Friends/6.2%
Work out more often/5.5%
Learn something new on my own/5.3%
Do more good deeds for others/5.2%
Find the love of my life/4.3%
Find a better job/4.1%
Other/13.8%
As is apparent, the listed resolutions are worthy, practical and achievable goals, but why do fewer than half of us stick with and achieve any of them? I have a theory and a challenge.
My theory is that focusing on a singular goal can get old, or we slip up and throw in the towel or become discouraged. Weight loss/ healthy eating is the most common resolution and many people do not achieve it because even though it is a goal that is critical to our well-being, it is not big picture focused enough, which leads to my challenge.
What if instead of a singular goal or resolution we choose to honor our whole selves and declare that in this New Year, every day we will start by intending to be better and do better than the day before? Consciously state that, "I will intentionally try to be my best self each day". This means in every way possible-- health and nutrition, relationships, work, finances, spirituality, creating order and peace in our surroundings, among other things. Think: "This way I get 365 new starts, so if I fall short one day, I can begin again the next day". The point is to make the most of each day and not feel as if we have failed if we get off course for a bit.
What would living this big-picture focused life improvement resolution look like? Start the year right by creating order in your space. Give away things that you do not use or need. Organize what is left. Check your refrigerator, cupboard and pantry to make certain whole, healthy food is available, think fresh, green, unprocessed and variety. Commit to keeping it that way, and enlist the support of household members. For unhealthy habits like smoking, declare each day that you are better without it and actively seek support and assistance to quit.