Two Dave Chappelle specials set for New Year's Eve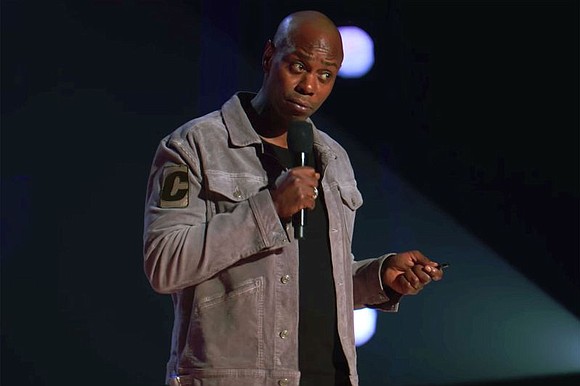 Netflix gave comedy fans an early Christmas present.
On Friday, it announced it was releasing two new Dave Chappelle specials on Dec. 31, instead of just one.
In addition to the previously announced special "Equanimity," Chapelle will also release "The Bird Revelation," which was filmed at The Comedy Store in Los Angeles last month. This expands Chappelle's deal with the streaming giant, which originally included three specials. He released "The Age of Spin: Dave Chappelle Live at the Hollywood Palladium" and "Deep in the Heart of Texas: Dave Chappelle Live at Austin City Limits," earlier this year. Both were filmed before he inked his Netflix deal.
A new trailer for the special shows Chappelle talking about growing up in the black middle class: "My parents did just well enough so that I could grow up poor around white people," says the 44-year-old comedian. "That first sleepover at a white friend's house. You just come back home on Sunday and look at your parents like, 'Y'all need to step your game up. Everything at Timmy's house works.'"
The two new specials cap off a busy year for the iconic comedian who exploded back onto the scene when he hosted the 2016 post-election edition of "Saturday Night Live" to critical acclaim. In addition to his Netflix specials, he also appeared on the "Def Jam 25" reunion with a host of comedy giants, including Steve Harvey, Sheryl Underwood, D.L. Hughley and Martin Lawrence, which also aired on Netflix.
Netflix is not the only network ringing in the New Year with Chappelle. Comedy Central is gearing up for a daylong marathon of the groundbreaking "Chappelle's Show." The network will air all 28 episodes leading up to Chappelle's HBO comedy special, "Killing Them Softly."
Follow me on Twitter @ShondaMcClain.