Senator's trial, bridge scheme sentencing among year's top stories
Bruce Shipkowski, Associated Press | 12/23/2017, 5:52 p.m.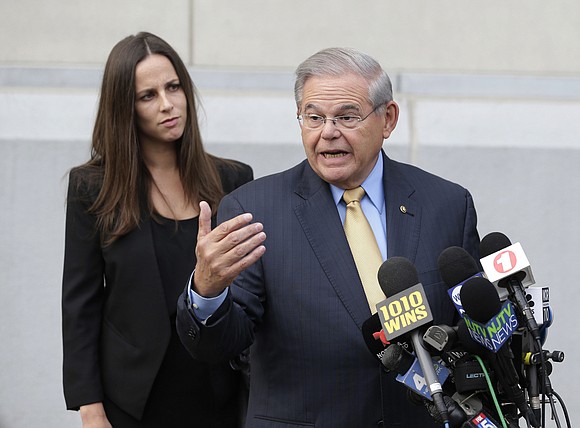 TRENTON, N.J. — In 2017, New Jerseyans elected a new governor, saw their senior U.S. senator stand trial on federal corruption charges and endured a brief government shutdown.
Another chapter was also written in the 2013 George Washington Bridge lane-closing scandal when three former allies of Republican Gov. Chris Christie were sentenced for their roles in the scheme.
The federal case against U.S. Sen Bob Menendez ended in a mistrial.
Democrat Phil Murphy was chosen to succeed term-limited Christie.
Residents also endured a government shutdown that's mostly remembered for photos of Christie lounging on a state beach that had been closed to the public due to the impasse.
A look at some of the top stories of the year in New jersey:
MENENDEZ TRIAL
The federal corruption trial of Menendez ended in a mistrial in November after jurors said they couldn't reach a unanimous verdict on any of the counts against the Democrat. And it's still not clear if federal prosecutors will seek to retry the case. Menendez, a former chairman of the Senate Foreign Relations Committee who has been in the Senate since 2006, is up for re-election in 2018 and is expected to run, though he hasn't officially announced his candidacy.
CHRISTIE-TRAFFIC JAMS
Prison terms were handed down to two former allies of Christie who were convicted of roles in the George Washington Bridge lane-closing scandal. But a former political blogger and high school classmate of Christie's who masterminded the scheme as part of a political vendetta escaped a prison sentence . The three were charged with closing access lanes to the bridge, among the busiest in the world, during a week in September 2013 to cause massive gridlock in Fort Lee, whose Democratic mayor had declined to endorse the Republican governor's re-election.
GOVERNOR'S RACE
Christie's high-profile tenure as New Jersey's governor is coming to an end. The Republican will be replaced next month by Democrat Phil Murphy , who trounced GOP Lt. Gov. Kim Guadagno in November. Murphy will be sworn in Jan. 16. Christie, who was term-limited, has grown deeply unpopular with residents in recent years. Murphy is a former Goldman Sachs executive who served as ambassador to Germany under Democratic President Barack Obama. He had never before sought elective office.
CHRISTIE-GOVERNMENT SHUTDOWN-BEACH HOUSE
New Jerseyans dealt with a three-day budget impasse that shuttered the state's government, parks and beaches ahead of the July Fourth holiday. But the shutdown is mostly remembered for photos showing the governor lounging on a state beach that had been closed to the public due to the impasse. The pictures sparked a global reaction, with headlines on international news sites, and inspired countless memes featuring a cutout of Christie in a beach chair.
CHILD FOUND DEAD
When his 3-year-old son disappeared in October 2015, David Creato told authorities the child had apparently wandered away from his Haddon Township home. But prosecutors eventually alleged Creato killed the boy because the child was getting in the way of his relationship with a teenage girlfriend, Creato's first trial ended in a mistrial in May after jurors failed to reach a verdict. He was due to stand trial again in September, but instead pleaded guilty to aggravated manslaughter in August and was sentenced to 10 years in prison. -- (AP)