AP FACT CHECK: Trump's 'middle-class miracle' favors wealthy
Associated Press | 12/21/2017, 6:48 a.m.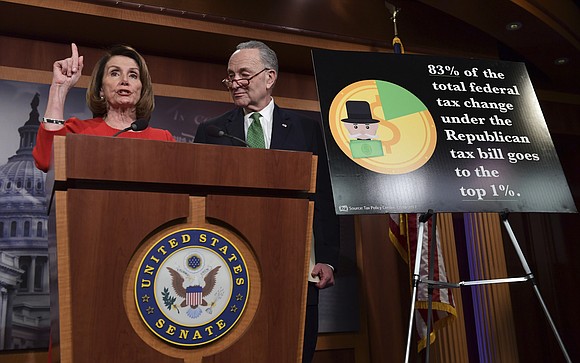 WASHINGTON — You wouldn't know it from President Donald Trump's rhetoric, but the tax overhaul coming into effect is heavily tilted to the rich. It also leaves "Obamacare" in place, despite his assertion that the tax plan repeals the health care law. Nothing about the plan provides the fuel to achieve economic growth at the levels he's predicted.
Trump's penchant for exaggeration and sometimes pure fiction has clouded the realities of the overhaul as it has shaped up over months. As for Democrats, you wouldn't know to hear them talk that middle-class people are getting a tax cut out of the deal, too.
A look at remarks made Wednesday and earlier about the tax plan Trump will shortly sign into law.
TRUMP: "It's the largest tax cut in the history of our country." — remarks Wednesday.
THE FACTS: It isn't. For months Trump has refused to recognize larger tax cuts in history, of which there have been many, or to grant that other presidents have enacted big tax cuts since Ronald Reagan in the 1980s.
An October analysis by the Committee for a Responsible Federal Budget found that it would be the eighth biggest since 1918. As a percentage of the total economy, Reagan's 1981 cut is the biggest followed by the 1945 rollback of taxes that financed World War II. Trump's plan is also smaller than cuts in 1948, 1964 and 1921, and probably in other years.
Valued at $1.5 trillion over 10 years, the plan is indeed large and expensive. But it's much smaller than originally intended. Back in the spring, it was shaping up as a $5.5 trillion package. Even then it would have only been the third largest since 1940 as a share of gross domestic product.
VICE PRESIDENT MIKE PENCE: "You're delivering on that middle-class miracle." — to Trump at a Cabinet meeting Wednesday.
THE FACTS: Modest doesn't make for a miracle. Pence's praise to the boss reflects Trump's assertion that "it's a tax bill for the middle class," as he put it earlier and many times, but average people are not the prime beneficiaries of the tax cuts. Aside from businesses, rich people get the most.
The nonpartisan Tax Policy Center estimates the biggest benefit of the new law will go to households making $308,000 to $733,000. Households making over that should get a tax cut worth 3.4 percent of their after-tax income. For the richest 0.1 percent (making over $3.4 million), the tax cut should be worth 2.7 percent of their after-tax income. For middle-income earners: 1.6 percent, the center estimates.
Moreover, only high-income people would get a meaningful tax cut after 2025, when nearly all of the plan's individual income tax provisions are due to expire.
Republicans argue that the middle class will also see benefits from the business tax cuts, in the form of more jobs and higher wages.
DEMOCRATIC SEN. CHARLES SCHUMER: "Their bill increases taxes on lots of middle-class people. ... According to the Tax Policy Center, the top 1 percent of earners in our country gets 83 percent of the benefits." — remarks Tuesday.