With 5 Grammy nods, SZA emerges as music's breakout star
Mesfin Fekadu, AP Music Writer | 12/21/2017, 6:51 a.m.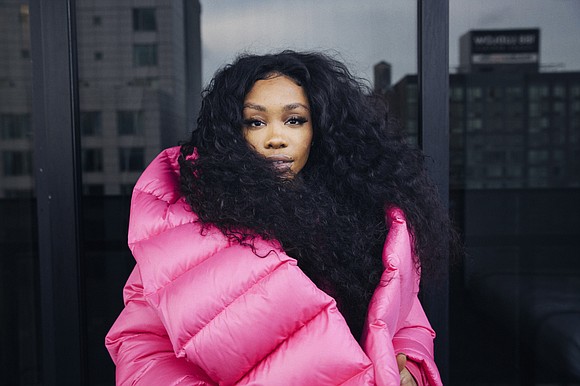 "Ctrl," which has achieved gold status, has launched two platinum singles with "Love Galore" and "The Weekend," recently remixed by Calvin Harris. The project was named the No. 1 album of the year by several critics, including Time, Vice, New York Daily News and The Associated Press; it was ranked No. 2 by the New York Times, NPR, Pitchfork and Billboard.
The success makes SZA, who appeared in an ad for Rihanna's ultra-successful Fenty makeup line, the belle of the Grammys — she's the most nominated female act.
"You know what's crazy? I feel like you're never as good as people say you are. And you're never as bad as people say you are. So, it's like, you just gotta take it like with a grain of salt. Like, it's an experience. A responsibility more so. I think it's like a knock on the head. Like, you have a responsibility, you have a purpose, so it's like, uh, get to work and focus," she said.
SZA's nominations include best new artist and best urban contemporary album for "Ctrl." Three of her songs also earned nominations — the Travis Scott-assisted "Love Galore" (best rap/sung performance); the fan-favorite "The Weekend" (best R&B performance); and album opener "Supermodel" (best R&B song).
But music didn't almost happen for SZA, born Solana Rowe in St. Louis but raised in New Jersey.
"I had no idea. I just really wanted to be a scientist or just, like, do something like a gymnast. ...Then I wanted to be in fashion marketing. I really wanted an office, badly. Needed an office. Needed a corner. Needed, like, the wood grain. Needed the good view. Needed the long lunch. Like, I needed all that," she said. "I just wanted to wear power suits. And like, you know, hair slick, skin immaculate. Like, you know, you always crave what's the hardest for you to attain."
"So the music thing I just stumbled on, that was not my plan at all," she added. "I fought this hard. Like, I fought this whole process so hard. I'm even fighting it now. ...But it's getting easier ... I'm accepting. I'm accepting where I am. And this is true direction."
Punch first met the big-haired SZA in 2011 at a Lamar show in New York. SZA was helping sell merchandise but they didn't have his size. When she arrived in the lobby of Punch's hotel to bring him clothes, he overheard the music blasting out of headphones of SZA's friend.
It was SZA's song.
"SZA got all embarrassed. She wasn't going to say anything about singing," said Punch, who co-wrote four songs on "Ctrl" and is nominated alongside the singer for best R&B song. "I heard her voice and her voice was so distinctive, and then I heard what she was actually saying. I'm like, 'Yo, she is like a lyricist.'"
That song was one of the first SZA recorded. They kept in touch, she let him listen to more songs and he would give her advice. After two years, she asked Punch to manage her.
"We really talked about it seriously and here we are," he said.
SZA, who recently won two Soul Train Awards and is nominated for four NAACP Image Awards, is now looking ahead to the Grammys. She plans on bringing her grandmother to the event, to be held in New York City on January 28.
"She's getting her outfit ready," SZA said of her grandmother, who lives in St. Louis and is heard giving feisty advice and words of encouragement to SZA, along with the singer's mother, throughout the "Ctrl" album.
"She's 90, and this is the one time that the Grammys is near my hometown," she said. "I'm thankful." -- (AP)