AP FACT CHECK: Trump off on black homeownership, trade
Associated Press | 12/11/2017, 6:57 a.m.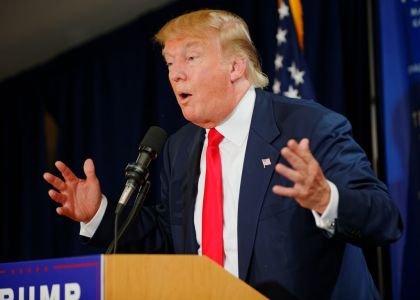 WASHINGTON — In his Alabama-ish rally, President Donald Trump falsely stated that black homeownership has hit a record high under his stewardship and made the dubious claim that he set Canada's prime minister straight on the state of trade between the two countries.
Trump spoke Friday night in Pensacola, Florida, across the line from Alabama. The positioning was meant to help Alabama Senate candidate Roy Moore win Tuesday's election without actually having Trump set foot in a race defined by accusations of sexual misconduct against the Republican. Trump looked back on his months in office and overstated his achievements during more than an hour of boasting.
A look at some of his statements:
TRUMP, surveying the crowd: "Look at these guys, 'blacks for Trump.' I love you. I love you. By the way, now that you bring it up, black homeownership just hit the highest level it has ever been in the history of our country. Congratulations."
THE FACTS: Not true or even close.
The U.S. Census finds that the black homeownership rate peaked during 2004, when 49.7 percent of black households owned homes (the rate for all races that year reached 69.2 percent, also a modern record). The black homeownership rate stayed in similar territory until the recession, when it dropped to the mid-40s.
This year: 42.7 percent in the first quarter, 42.3 percent in the second and 42 percent in the third. That's an uptick from last year but far from a record. Quarterly rates this year for the total U.S. population: 63.6 percent, 63.7 percent and 63.9 percent.
---
TRUMP: "Working with Republicans in Congress we've already signed 88 pieces of legislation. We get no credit. They always say, well, President Trump really needs this tax bill because he hasn't passed any legislation. Well, so far in 10 months we've passed more during this period of time than any other president in the history of our country and the second - let's call runner up - is Harry Truman, was second."
THE FACTS: Trump's first-year legislative record pales next to that of a variety of presidents (Franklin Roosevelt, with his New Deal, signed 14 historic laws in his first 100 days). The tax package Trump may soon sign would mark his first major legislative achievement after months of false starts and frustrations on health care and more. His promised infrastructure initiative got sidelined but appears in the offing.
Trump signed a law strengthening accountability at the Veterans Affairs Department, used executive orders to roll back Obama-era regulations and policies and, perhaps most significantly, won confirmation of a conservative Supreme Court justice, Neil Gorsuch. But legislatively, his record is thin, despite having Republican majorities in Congress.
All presidents sign plenty of bills that have little consequence; most don't make so much of it. Among Trump's routine signings: naming a Veterans Affairs health clinic in Butler County, Pennsylvania, after Bataan Death March survivor Abie Abraham, appointing a regent at the Smithsonian Institution, naming a federal building and courthouse in Nashville, Tennessee, after late Sen. Fred Thompson.