A look at high-profile police-related deaths of US blacks
Associated Press | 12/10/2017, 11:15 a.m.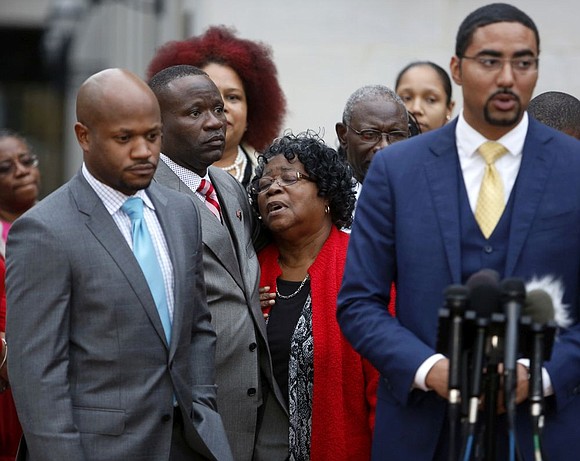 CHARLESTON, S.C. — A white former police officer in South Carolina will spend two decades in prison for shooting an unarmed black motorist to death in 2015.
Former North Charleston officer Michael Slager pleaded guilty to violating Walter Scott's civil rights when he shot him five times in the back. A state murder charge, which resulted in a hung jury in 2016, was dropped as part of the plea deal.
Stunning cellphone video of the shooting helped jump start the Black Lives Matter movement. Some civil rights leaders say without the video, it might have been impossible to even charge Slager.
Here are some other high-profile deaths of blacks during police encounters:
FREDDIE GRAY
Six Baltimore officers were involved in the arrest and in-custody death of Freddie Gray, a 25-year-old black man who died after being injured in a Baltimore police van, touching off weeks of protest. Prosecutors in July 2016 dropped all remaining charges after acquittals and a hung jury. The U.S. Department of Justice then decided not to bring federal civil rights charges. Gray's family agreed to a $6.4 million settlement with the city in September 2015.
SAM DUBOSE
A judge in July dismissed charges against Ray Tensing, a white former University of Cincinnati officer who fatally shot Sam DuBose, an unarmed black motorist, during a 2015 traffic stop. The judge's decision came after a prosecutor declined to pursue a third murder trial; the first two ended in hung juries. Tensing has said he feared he could be dragged or run over as DuBose tried to drive away. The university fired Tensing, restructured its public safety department and reached a $5.3 million settlement that includes free undergraduate tuition for DuBose's 13 children.
PHILANDO CASTILE
St. Anthony, Minnesota, officer Jeronimo Yanez was acquitted of manslaughter in June in the fatal shooting of Philando Castile, a black motorist who had just informed the officer that he was carrying a gun. The case in suburban St. Paul garnered immediate attention because Castile's girlfriend streamed the aftermath live on Facebook. Yanez testified that Castile was pulling his gun out of his pocket despite his commands not to do so. Castile's mother reached a $3 million settlement and his girlfriend was paid $800,000 by the city of St. Anthony and others.
TERENCE CRUTCHER
An Oklahoma jury in May found white Tulsa police officer Betty Jo Shelby not guilty of first-degree manslaughter in the 2016 death of Terence Crutcher, 40, who was shot shortly after Shelby arrived to find Crutcher's SUV stopped in the middle of the road. Shelby testified that she was afraid because Crutcher didn't obey her commands and appeared to reach inside his vehicle. Prosecutors told jurors that Shelby overreacted, noting that videos from a patrol car dashboard and a police helicopter showed Crutcher had his hands in the air and did not have a weapon.
ALTON STERLING
Federal prosecutors announced in May they would not seek charges against two white police officers who were involved in a deadly encounter with Alton Sterling in Baton Rouge, Louisiana, last summer. Sterling, 37, was shot to death on July 5, 2016, as the officers pinned him to the pavement outside a convenience store where he had been selling CDs. The killing was captured on cellphone video and circulated widely online, sparking demonstrations across Baton Rouge. U.S. Attorney Corey Amundson said Sterling was armed during the confrontation and the investigation didn't find enough evidence to pursue charges. State authorities are investigating whether to bring charges.