Combative Franken quits, points to GOP tolerance of Trump
Alan Fram, Associated Press | 12/7/2017, 6:26 p.m.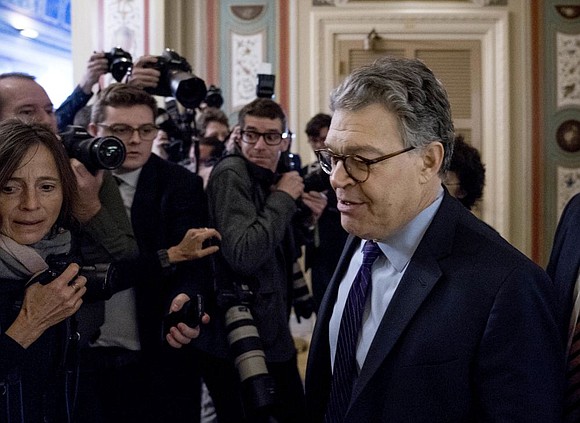 The breaking point came Wednesday, when a former Democratic congressional aide said he forcibly tried to kiss her in 2006, an accusation he denied. Hours later, another woman said he'd inappropriately squeezed "a handful of flesh" on her waist while posing for a photo with her in 2009.
The accusations started last month when Leeann Tweeden, now a Los Angeles radio anchor, accused him of forcibly kissing her during a 2006 USO tour in Afghanistan. She also released a photo of him with his hands at her breasts as she napped aboard a military plane.
On Thursday, Franken walked to the Senate chamber shortly before noon, hand-in-hand with his wife of 35 years, Franni. As he spoke, members of his family watched from the visitors' gallery, some sobbing. Franken said that thanks to them, "I'm going to be just fine."
Almost two-dozen colleagues listened silently at their desks, some dabbing their eyes. Those watching were nearly all Democrats and many were women, including New Yorker Kirsten Gillibrand, who released the first of what became a flood of public statements Wednesday calling for Franken's resignation. Also present was Senate Minority Leader Chuck Schumer of New York, who one Democrat said had spent much of Wednesday persuading his friend to leave.
After Franken spoke, many of his colleagues lined up to hug him.
He said he was leaving because he couldn't handle an ethics panel investigation while representing his state effectively. He said he'd remain an activist: "I may be resigning my seat, but I am not giving up my voice."
A star on "Saturday Night Live," the Harvard-educated Franken was elected to the Senate in 2008 by 312 votes. In Washington, he distanced himself from his comedic background, largely avoided national reporters and burrowed into consumer issues. He found his voice as a sharp critic of Trump administration officials and has been listed as a potential 2020 presidential contender.
His announcement prompted immediate maneuvering for his seat.
Among the possibilities for Minnesota Gov. Dayton's temporary appointment is Lt. Gov. Tina Smith, a trusted Dayton ally. The winner of a special election in November 2018 would serve through the end of Franken's term in January 2021.
Midterm elections are often difficult for the party that holds the White House, and Trump is deeply unpopular. But Hillary Clinton defeated Trump by just 1.5 points in the state, preserving a four-decade run for the Democrats in presidential elections. -- (AP)