Conyers resigns from Congress amid harassment allegations
Associated Press | 12/5/2017, 6:56 p.m.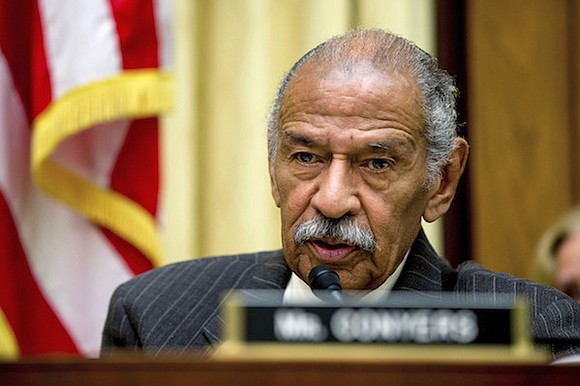 Democratic Sen. Al Franken of Minnesota, Republican Rep. Blake Farenthold of Texas and Democratic Rep. Ruben Kihuen of Nevada have all rebuffed calls to step down, though Republican Rep. Joe Barton of Texas has said he won't seek re-election next year.
Conyers said in a statement read Tuesday on the floor of the House that he was resigning "to preserve my legacy and good name."
He also complained that he was not being afforded due process to defend himself, and cited his health problems as another factor in his decision. He added that he hopes his retirement will be viewed in the "larger perspective" of his more than 50 years as a lawmaker.
Conyers regularly won elections with more than 80 percent of the vote.
He co-sponsored a 1972 resolution recommending President Richard Nixon's impeachment for his conduct of the Vietnam War and regularly introduced a bill from 1989 onward to study the harm caused by slavery and the possibility of reparations to the descendants of slaves.
After a 15-year struggle, Conyers succeeded in establishing the Rev. Martin Luther King Jr.'s birthday as a federal holiday in 1986. He employed civil rights legend Rosa Parks at his Detroit district office for more than two decades.
Word of Conyers' resignation was met with sadness among House Democrats. The uproar had divided members of his party, especially those in the Congressional Black Caucus. Pelosi, too, had struggled, calling Conyers an "icon" before pressing days later for him to go.
"Congressman Conyers has served in the Congress for more than five decades, and shaped some of the most consequential legislation of the last half century," Pelosi said following his retirement. "But no matter how great the legacy, it is no license to harass or discriminate. The brave women who came forward ... were owed the justice of this announcement."
The furor over Conyers unfolded as the sexual misconduct allegations against Franken and Alabama Senate candidate Roy Moore sent members of both parties rushing to choose sides.
"I think that we lose our moral authority if we also don't call out those we love who have done things that are bad," said Rep. Pramila Jayapal, D-Wash. "I think we have to recognize and be able to hold the dueling possibilities that somebody can be a great man and have done great things for our country and for civil rights but also have done terrible things that require accountability." -- (AP)