Senator Robert Menendez corruption trial set for September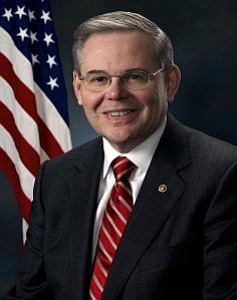 The corruption trial of U.S. Senator Robert Menendez is set to begin early September, as jury selection for the potentially high stakes case was completed last week in Newark.
Menendez was indicted in 2015 and charged with bribery in connection with accepting campaign donations and lavish gifts from and a wealthy campaign donor—Florida eye doctor Salomon Melgen—in exchange for political influence and intense lobbying efforts from Menendez for Melgen's existing and new business ventures. Melgen is also named in the indictment. Menendez denies the charge and contends he was seeking to influence future policy on certain issues and not espousing on behalf of Melgen.
The high profile case could have dire political consequences should Menendez, a Democrat and state senator since 2006, be convicted of corruption and forced to leave the Senate. Outgoing Gov. Chris Christie would name his replacement—most likely a Republican that would tip the decision on several key congressional issues—including a resurrected push by the Trump administration to replace and repeal the Affordable Care Act. In a statement to the media, an official at the Eagleton Center for Public Interest Polling at Rutgers University in New Brunswick said, "If the seat is lost by a Democrat and gets taken over by a Republican that is the vote they need for the health care debate."
However, according to some pundits, it is unlikely that such a scenario would occur. For example, there is no law that a senator who is convicted of a crime must forfeit his seat. Secondly, even if Menendez is convicted, his legal team would likely file an appeal and the process would enable Menendez to retain his senate seat until after Jan. 6 when New Jersey's next governor is sworn in and confirmed. New Jersey businessman Phil Murphy, a Democrat currently leads Republican challenger Kim Guadagno by as much as 15 percentage points. Public opinion of Menendez is mostly positive—with bloggers believing the popular senator will be exonerated of any charges. Realtor Margaret Kelly LaRosa posted, "Senator Menendez and corruption...he's too smart for that."
The trial will begin on Sept. 6 and is expected to last through November.