Is Tichina Arnold ready to give up acting for music?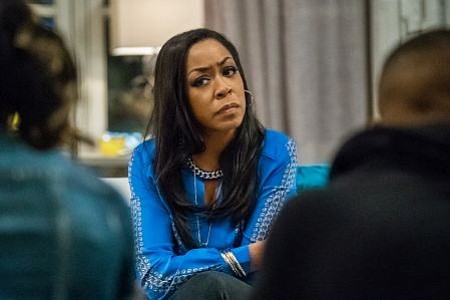 With roles on the hit Starz comedy "Survivor's Remorse" and VH1's "Daytime Divas," Tichina Arnold's plate is pretty full. But, the busy actress, best-known for her role as Pamela James on the groundbreaking comedy "Martin," is ready to make time for her next act – singing.
The "Everybody Hates Chris" star told ABC Radio that she is working on an album, a project that has been 20 years in the making.
"I've never given music 200 percent of my time – because television pays me!" she said. But she has found time to squeeze in a few performances, like singing The National Anthem at the New York Knicks game in 2013, which can be found on Youtube.
An excited Arnold revealed she has completed 10 songs with her writing partner and they are close to putting the album out. She said the reason it has taken her two decades to get to this point is because of her "lack of knowledge" about the music industry and social media.
But, that has changed.
"I've finally hired some social media company to do it for me, because I can't. It's just too much," she told the radio station.
Since Arnold, 48, has no plans to give up her day job – acting pays the bills, after all – how does she plan to juggle the demands of Hollywood and her passion for singing – while also raising and playing momager to her 13-year-old daughter, Alijah Kai?
"It's hard to do, to balance it all," she admitted. "And motherhood! You all know Alijah Kai, And let her tell it, she's a triple threat, so she's a bigger star than I am."
"Survivor's Remorse," starring Arnold, Jessie Usher, RonReaco Lee, Teyona Parris and Erica Ash, airs Sundays at 10 p.m. on Starz.
Follow me on Twitter @ShondaMcClain.