Divider-in-chief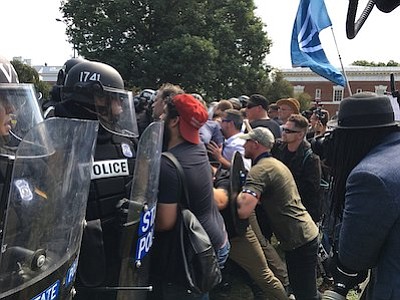 Trump's campaign rhetoric including his hard-line on immigration and anti-Muslim travel ban sowed the seeds for white supremacists group to believe that he support their beliefs. These hate group are emboldened by his presidency and see his hesitancy to strongly condemn them as support.
Former Ku Klux Klan leader David Duke who attended the hate-fest in Virginia told reporters that the white nationalists were working to "fulfill the promises of Donald Trump."
Many of those attending the hate rally were wearing Trump hats and "Make America Great Again" hats.
Trump's response to the rally drew praise from the neo-Nazi website Daily Stormer, which wrote: "Trump comments were good. He didn't attack us. He just said the nation should come together. Nothing specific against us. ... No condemnation at all."
The Anti-Defamation League's Center on Extremism, has documented a spike in the number of white supremacists recruiting on college campuses and a series of white supremacist rallies.
The president must demonstrate through words and actions that there is no room in America for the vile bigotry of white supremacy and anti-Semitism. In the future, Trump must condemn these racists groups without hesitation in the strongest terms as hateful and un-American.
The FBI must aggressively investigate the killing in Charlottesville as a domestic act of terror and swiftly bring to justice the individual responsible for the death of one citizen and the injuries of dozens more at the rally.
As citizens we must hold the president accountable when he fails to speak out or seek to equivocate the actions of racists and counter protesters. Elected officials, business leaders, clergy and others must have the courage to rebuke the president when he behaves like a demagogue.
Until Trump denounces the domestic terrorism of racists groups as explicitly and strongly as he does foreign terrorism, white supremacy and neo-Nazi groups will become more emboldened.
Irv Randolph is the Editor and Publisher of South Jersey. You can follow him on Twitter @Irv Randolph.