Divider-in-chief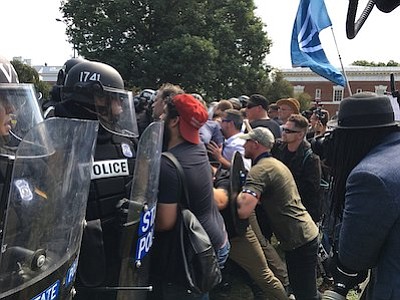 Donald Trump's presidential campaign slogan was "Making America Great Again," but many of his words and actions are emboldening white supremacists and neo-Nazis who seek to make America hate again.
This month was a moral test for President Trump in which he failed. At a critical moment that demanded leadership, Trump gave a vague and tepid initial response to the extreme hatred and violence at a white supremacists and neo-Nazi torch-lit rally shouting racist and anti-Semitic slogans in Charlottesville, Virginia.
When the country was looking for a uniter, Trump chooses to be a divider.
The rally was organized partly in opposition to a plan by local officials to remove a statue of the Confederate General Robert E. Lee from Emancipation Park in Charlottesville. The rally quickly descended into violence when a Nazi sympathizer rammed his car into Heather D. Heyer, 32, a paralegal from Charlottesville. Heyer who was described by friends as "a passionate advocate for the disenfranchised," was killed and dozens injured some of them critically, when a car plowed into another vehicle near a group of counter protesters.
The driver charged with second-degree murder is James Alex Fields Jr., described by a former high school teacher as an admirer of Adolf Hitler and Nazi Germany.
Trump condemned the "egregious display of hatred, bigotry and violence on many sides, on many sides" but did not single out white nationalists or neo-Nazis.

Prominent Democrats and Republican leaders, business leaders, clergy and others should be commended for criticizing Trump for equating the actions of white supremacists and neo-Nazis with those anti-racism counter-protesters.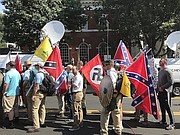 Several prominent Democrats and Republicans, Vice President Mike Pence, and his daughter Ivanka Trump spoke more forcefully against racism than Trump.
Ivanka Trump was more explicit than the president, tweeting on Sunday morning, "There should be no place in society for racism, white supremacy and neo-Nazis."
Trump's poor response prompted several CEOs to resign from two White House advisory councils. Merck CEO Kenneth Frazier was the first member to quit the president's American Manufacturing Council on Aug. 14, citing "a matter of personal conscience" and "a responsibility to take a stand against intolerance and extremism." Trump quickly rebuked him on Twitter. Over the next few days, several more executives followed Frazier's lead and Trump disbanded the advisory groups.
Members of the President's Committee on the Arts and the Humanities also announced in a fiery letter that they were resigning en masse.
"Ignoring your hateful rhetoric would have made us complicit in your words and actions …" the letter stated. "Supremacy, discrimination, and vitriol are not American values. Your values are not American values. We must be better than this. We are better than this. If this is not clear to you, then we call on you to resign your office, too."
A prominent coalition of rabbis also pulled out of an annual call with the US president over his remarks about violence in Charlottesville.
The four groups said Trump's statements were "so lacking in moral leadership and empathy" that the traditional call to mark the Jewish holidays could not take place.