Comedian, activist Dick Gregory dead at 84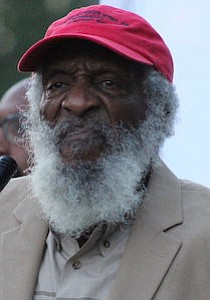 Dick Gregory, who used his uncanny wit and sharp humor to crusade for human and civil rights, died Saturday in Washington, D.C. He was 84.
Gregory's son, Christian Gregory, announced his father's death on Facebook. "It is with enormous sadness that the Gregory family confirms that their father, comedic legend and civil rights activist Mr. Dick Gregory departed this earth tonight in Washington, DC," he said in the post. "The family appreciates the outpouring of support and love and respectfully asks for their privacy as they grieve during this very difficult time. More details will be released over the next few days."
Richard Claxton Gregory was born on Oct. 12, 1932 in St. Louis, Mo. Gregory married his wife, Lillian, in 1959. They had 10 children. He began performing comedy while in the Army serving in Special Services, but got his first big break in 1961, with a last-minute gig at Hugh Hefner's Playboy Club in Chicago. His performance was a huge hit and landed him a glowing article in Time magazine. The reporter wrote: "What makes Gregory refreshing is not only that he feels secure enough to joke about the trials and triumphs of his own race, but that he can laugh, in a sort of brotherhood of humor, with white men about their own problems…"
He also caught the eye of talk show host Jack Paar, who asked Gregory to appear on his late-night show. But Gregory refused unless he was able to sit down with the talk show host after his appearance – something no other Black entertainer had been allowed to do in the history of television.
Gregory recounted the conversation he had with Paar to "CBS Sunday Morning": "And then the phone rang again. It's Jack Paar. 'Dick Gregory, this is Mr. Paar. How come you don't wanna work my show?' I said, ' 'Cause the Negroes never sit down.' 'Well, come on in, I'll let you sit down.' And that's how it happened. I came in, did my act, went to sit on the couch. It was sitting on the couch that made my salary grow in three weeks from $250 working seven days a week to $5,000 a night."
Gregory's history-making appearance opened the doors for other Black entertainers and comedians like Bill Cosby and Richard Pryor.
Following his appearance with Paar, Gregory became one of the most successful comedians in America, commanding thousands of dollars a week for club dates and earnings from records like "In Living Black and White" and "Dick Gregory Talks Turkey."
The socially conscious comedian took his activism form the stage to the street, using his crossover popularity and platform to become a vocal champion for human and civil rights. In 1962, he fought for voting rights in Mississippi and he participated in the 1963 historic March on Washington with the Rev. Martin Luther King Jr. In 1965, he was shot in the leg as he tried to keep peace during the Watts riots in Los Angeles.
But, the pain of a bullet would not quell Gregory's fire for social justice. The outspoken comedian expressed his political ambitions by running for mayor of Chicago in 1967 and he ran for president in 1968 under the Freedom and Peace Party. He was on the ballot in eight states and got 47,133 votes.
Gregory also embraced other causes, including going on hunger strikes, shrinking at times to 95 pounds, over issues like the Vietnam War. "I went on a fast, 40 days of water. Forty days of fruit juice. Forty days of fruit. And then 40 days of water again," Gregory told NPR.
He also used his body to protest failed Equal Rights Amendment, police brutality, South African apartheid, nuclear power, prison reform, drug abuse and American Indian rights, the New York Times reported.
Gregory's fasting made him more aware of his health and inspired him to become a health guru. In 1984, he introduced his Slim/Safe Bahamian Diet and later authored "Dick Gregory's Natural Diet for Folks Who Eat: Cookin' with Mother Nature."
Throughout the years, Gregory never let his age sideline him. He continued performing up until his death, his satirical humor and enlightened observations intact.
Follow me on Twitter @ShondaMcClain.