Steph Curry's crossover into golf is good for both sports
The Riley Sports Analysis
Stephen D. Riley, Special to AFRO | 8/12/2017, 6:50 p.m.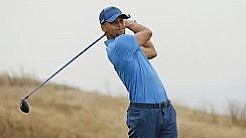 Golden State Warriors guard Stephen Curry might not be the next Tiger Woods, but the fact that he's getting recognition as a golfer is good for both sports.
The two-time NBA champion has been practicing his swing for years now but finally got some national exposure this past week at the Web.com Tour's Ellie Mae Classic in Hayward, Calif. in his first professional golfing event. Curry shot a 4-over-74 in two events last week, but missed the cut. Nevertheless, Curry made a good impression, showing a competent golf swing and stroke.
The crossover from Curry isn't your average NBA dribble, as basketball players rarely play both sides. But Curry has the potential to evolve his golf swing into something more than just leisure play—and players should take notice. With branding and advertising bigger than ever in professional sports, Curry dipping his toe into golf might be the window needed for athletes to experiment with openly playing in other arenas. The crowd surrounding Curry in Hayward wasn't the normal collection of golf goers, as his celebrity status probably added a few more ticket sales to the event. Similar to Conor McGregor stepping out of the UFC ring to fight Floyd Mayweather later this month, crossover appeal can be quite lucrative.
From ticket sales to media attention, Curry's appearance this past week definitely didn't hurt his reputation: it only improved it. A two-time NBA champion playing in front of an open crowd is bound to sell tickets, and the bigger the star, the bigger the draw. Who knows how far Curry's other career will go, but he's already off to a good start if he ever considered making the switch.
Curry's not the first NBAer to try his hand in golf; Hall of Fame players such as Michael Jordan and Charles Barkley both had a passion for playing. But if Curry can continue to improve, his celebrity status and talent could take him deep into the profession. He won't be the pioneer or the first to ever dabble in multiple sports, but he could very likely usher in a new era where players take more control of their own careers in a new age where lucrative contract deals await in any sport. The next era of billionaires could be upon us with players earning huge payouts and purses in separate sporting professions.