Blacks In Blue
Philadelphia and Atlantic City exhibit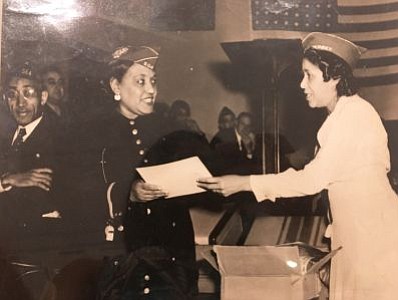 The newest exhibit at African American Heritage Museum of Southern New Jersey focuses on African Americans who have served on the police force. This limited-time exhibit features two of Atlantic City's finest. Maggie Creswell was the first African American female police officer in the country, the state of New Jersey, and the City of Atlantic City. Joseph Allmond worked his way through the ranks to become Atlantic City's first African American Chief of Police.
The exhibit is guest curated by students Ziana Carson, Nafi Hinson, and Aniyah Hepburn, on loan to the Museum from the Atlantic City Recreation Department. Chief
Henry White of the Atlantic City Police Department will lead a discussion on the exhibit at the August 11th opening reception. Arthur Matthews, the author of Black in Blue will be on hand to sign copies of his book in which he recounts the accomplishments of Philadelphia's African American police officers with pictures and news articles. Matthews was the first African American Commanding Officer of a city homicide division in a major American city. He served the City of Philadelphia for 19 years before retiring.
Admission is free. Donations are encouraged
The African American Heritage Museum of Southern New Jersey, Inc. is a 501(c)3 nonprofit organization with facilities in Atlantic City and Newtonville, New Jersey. Our mission is to showcase the accomplishments and impact of African Americans in South Jersey and around the country. For more information, visit AAHMSNJ.org or call 609.350.6662.
Atlantic City Museum Hours
Wednesday-Saturday 11 AM to 6 PM
Sunday 11:00 AM - 5:00 PM
Newtonville Museum Hours
Monday-Friday 10AM to 3 PM
Saturday/Sunday by appointment