Sonequa Martin-Green makes Star Trek history, shuts down haters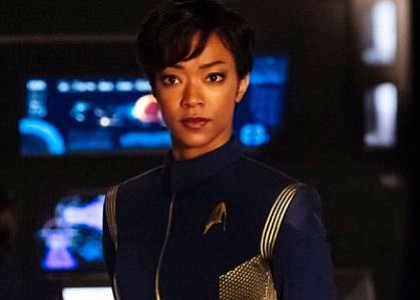 Sonequa Martin-Green will play the lead role in CBS's new series "Star Trek: Discovery," making her the first African-American female lead in the Star Trek franchise and the actress does not take the role lightly.
"The honor is mine," she told E! News. "We're bursting at the seams from the weight of it and the breadth of it. We just - we couldn't be more thrilled to share this journey with you because we understand its significance. We know we're telling a story we believe in. Everybody is so passionate…This is an epicly grand, yet microscopically tuned, deeply emotional story. We don't take it for granted. We don't take it lightly. I certainly don't. I feel like - it's a dream to be able to be a part of history. It's a dream."
But, her role did not come without controversy. There was some racist backlash about an African American having a lead role in the longstanding sci-fi franchise. Martin-Green answered naysayers with a classy response, telling Entertainment Weekly:
"I would encourage them to key into the essence and spirit of Star Trek that has made it the legacy it is – and that's looking across the way to the person sitting in front of you and realizing you are the same, that they are not separate from you, and we are all one. That's something Star Trek has always upheld and I completely believe that is why it's been a mainstay in society in the hearts of so many people for so many decades."
In "Star Trek: Discovery," Martin-Green plays Michael Burnham, the First Captain of the U.S.S. Shenzhou. She is the first-ever human to have attended the Vulcan Learning Center as a child, and the Vulcan Science Academy as an adult, and she has a close relationship with Spock's parent's, Sarek, who is Vulcan, and Amanda, who is human.
According to E! News, the new series takes place 10 years before the original series starring William Shatner and Leonard Nimoy and will "cross paths with components Trek fans are familiar with," Akiva Goldman, executive producer, said.
Before joining the cast of "Star Trek: Discovery," Martin-Green was a regular on the popular AMC drama "The Walking Dead," where she played the tough-as-nails Sasha. Her character was killed off last season.
Joining Martin-Green on the U.S.S. Shenzhou are Michelle Yeoh, Jason Isaacs, Doug Jones and Anthony Rapp.
"Star Trek: Discovery" debuts on CBS All Access on Sept. 25.
Follow me on Twitter @ShondaMcClain.