Phil Murphy taps Sheila Oliver for running mate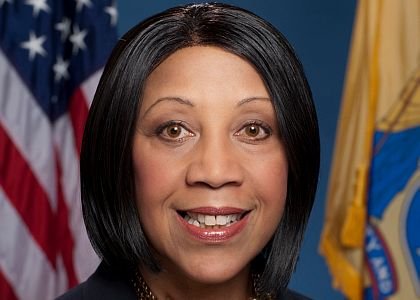 Democratic gubernatorial candidate, Phil Murphy has tapped former House Assembly speaker Sheila Oliver to be his running mate and lieutenant governor---thus making her potentially the highest ranking and first African American to be second in command in the state.
Oliver, 65, a native Newarker, has served in the state Legislature for more than 20 years and was the first African American woman to serve as Assembly speaker between 2010 and 2014. She failed in a bid to become mayor of East Orange in 1994—losing to incumbent Robert Bowser by 51 votes.
At a press conference in Newark, Oliver lauded Murphy and took a jab at Gov. Chris Christie. "I'm excited to be part of the Phil Murphy team that will focus on problem solving and not name calling," she said. "I have had enough of the Christie administration." A sharp critic of Gov. Chris Christie, Oliver frequently clashed with party members on both sides during her tenure—including Democratic State Senate President Stephen Sweeney.
In June, New Jersey Democrats overwhelmingly nominated former Wall Street executive Phil Murphy as their candidate for governor. Murphy is a former Goldman Sachs executive and administrator in the Obama administration. He has been accused by Republican challenger and current lieutenant governor Kim Guadagno's operatives as being an "out of touch millionaire." Murphy countered and said, "Our state is in crisis...Chris Christie and Kim Guadagno have lost touch...it's time for a governor and lieutenant governor who have your back, and we will."
Lastly, initial reaction to Murphy's selection of Oliver has been mixed.
Blogger MK Squared posted, "Great. Another Maxine Water..just what New Jersey needs, take a look at California's government!" Blogger Lawrence Bennett posted, "Smart move for Murphy going for the Black vote." And blogger Jackie McCoy said, "Wow! I'm not sure this is a good fit...hopefully, I'll be convinced before November."