McCain's brain cancer draws renewed attention to possible Agent Orange connection
Charles Ornstein, ProPublica, and Mike Hixenbaugh, the Houston Chronicle | 8/7/2017, 7:22 a.m.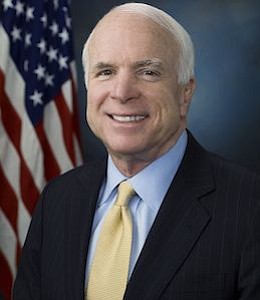 The goal, McCain said in a floor speech, was to ensure that veterans who actually deserved compensation received it, "but at the same time not have a situation where it is an open-ended expenditure of taxpayers' dollars." The amendment was defeated — and since then, Vietnam vet disability payments have grown to $24 billion a year — and the episode damaged McCain's reputation with veterans groups.
In a statement, a VA spokesman said the agency currently does not recognize a connection between Agent Orange exposure and brain cancer but is examining the topic anew in light of the questions that have been raised. In March, the VA asked a National Academy of Medicine panel studying the effects of Agent Orange to focus special attention on glioblastoma. (Previous reports by the group have not found a connection.) The VA also is asking about brain cancer in a sweeping survey of Vietnam veterans now underway.
VA data provided to ProPublica last fall shows that more than 500 Vietnam-era veterans have been diagnosed with glioblastoma at VA health facilities since 2000. That doesn't include the unknown number diagnosed at private facilities.
ProPublica and The Virginian-Pilot reported last year how widows of Vietnam vets were banding together to push the VA to add glioblastoma to its list of diseases linked to Agent Orange. Through a Facebook group, they support one another and offer advice on navigating the VA's labyrinthian process for seeking disability and survivor benefits.
Since news of McCain's illness broke last week, dozens like Jones have joined the group, whose members mostly include widows and surviving relatives, but also some veterans living with the disease. "Every one of us, our phones were blowing up the day it came out" that McCain had glioblastoma, said Kathy Carroll-Josenhans, one of the group's leaders.
The group now has some 450 members, about double its size in December.
One of their challenges is that the VA's handling of claims related to glioblastoma has been somewhat inconsistent. Between 2009 and last fall, the Board of Veterans' Appeals, the VA's in-house tribunal for adjudicating benefit denials, issued more than 100 decisions in cases in which widows have appealed benefits denials related to their husbands' brain cancer, according to a ProPublica analysis of board decisions. About two dozen won. (Here are two additional approvals from this year.)
Brad Riddell, a 35-year-old communications specialist living in Austin, Texas, is not a member of the Facebook group but immediately thought of his father when he heard about McCain's illness. His dad, Jerry Riddell, served in a Navy construction battalion in Da Nang during the war and routinely came in contact with Agent Orange, which was used to clear brush before paving roads and runways.
His father endured three surgeries — including two at MD Anderson Cancer Center in Houston — before doctors told him there was nothing more they could do. He entered hospice and died in February 1999, just 14 months after the diagnosis.
"I absolutely thought about dad when I heard about McCain," Riddell said. "Anytime I hear that diagnosis, it just feels like, 'Man, that person is a goner.' It's terrible."