McCain's brain cancer draws renewed attention to possible Agent Orange connection
Charles Ornstein, ProPublica, and Mike Hixenbaugh, the Houston Chronicle | 8/7/2017, 7:22 a.m.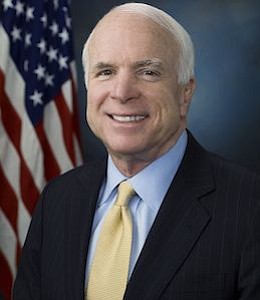 This story was co-published with the Houston Chronicle.
When Amy Jones' dad, Paul, was diagnosed with glioblastoma last month, she wondered whether it might be tied to his time in Vietnam.
Then, last week, when Sen. John McCain, R-Ariz., also a Vietnam veteran, was diagnosed with the same aggressive brain cancer, Jones searched online for glioblastoma and Vietnam vets.
She soon learned the disease is one of a growing list of ailments that some Vietnam veterans and their relatives believe is caused by exposure to Agent Orange, the toxic herbicide sprayed during the war.
"Honestly, it's not easy to even admit that this is happening, let alone to even talk about it," said Jones, whose 68-year-old father has had surgery to remove a brain tumor and now is receiving radiation treatments. "It's only been six weeks. It's such a devastating diagnosis."
McCain's diagnosis comes as the U.S. Department of Veterans Affairs is under increased pressure to broaden who's eligible for Agent Orange-related compensation. During the war, the military sprayed millions of gallons of the herbicide in Vietnam to kill enemy-covering jungle brush, and in the process, may have exposed as many as 2.6 million U.S. service members — including McCain.
News of his illness has prompted Amy Jones and others to call on the VA to study a possible connection between their loved ones' Agent Orange exposure and glioblastoma.
Under current policy, the agency makes disability payments to veterans who develop one of 14 health conditions, but only if they can prove they served on the ground in Vietnam, where the chemicals were sprayed. Veterans who served off the coast in the Navy and those with other diseases not on the list — such as brain cancer — are left to fight the agency for compensation on a case-by-case basis.
Those with glioblastoma — or widows seeking survivor benefits — must prove the disease was "at least as likely as not" caused by Agent Orange, a cumbersome process that often takes years and more times than not results in denial.
Although McCain primarily served at sea from the deck of an aircraft carrier — and survived more than five years in a prison camp after his plane was shot down over North Vietnam — the VA would presume he was exposed to Agent Orange because he also spent time on the ground in Saigon.
Still, McCain never has sought to connect any of his health troubles, including prior bouts with skin cancer, with Agent Orange exposure and has a mixed record when it comes to compensating fellow veterans for wartime exposures. His office did not respond to emailed questions about a possible link between glioblastoma and the chemical.
As a senator, McCain voted to approve the original 1991 law that directed the VA to presume every veteran who served in Vietnam was exposed and to begin compensating those with illnesses scientifically linked to it.
In 2011, however, as many Vietnam veterans aged into their 60s and 70s and annual disability payments to them swelled to more than $17 billion, McCain spoke in favor of an amendment that would have required a higher standard of scientific proof before any new illnesses would be covered.