Tiffany Haddish, Tracy Morgan team up for new TBS comedy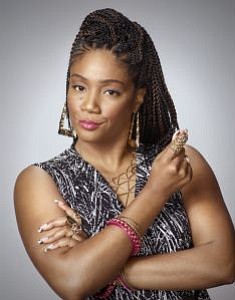 Tiffany Haddish is on a roll. Fresh off of the box office success of "Girls Trip," the film's breakout star is preparing for a new role on the small screen. The comedian is joining forces with Tracy Morgan for the TBS comedy "The Last O.G."
During a panel discussion at the Television Critics Association (TCA) last week, the actress, who had a recurring role in the recently canceled "The Carmichael Show," said she is excited about the success of her film and happy to be working with Morgan.
"I feel like a foster kid who has been in the system for a long time and turned 16 and got adopted and they said 'You can go to college' and I won't have any loans," she said, according to deadline. "I'm accepted finally!"
In "The Last O.G.," Morgan plays Tray, an ex-con from Brooklyn who is released from prison after 15 years and finds out that his ex-girlfriend, Shay, played by Haddish, gave birth to twins he did not know about while he was away and is now married to a successful white man (Ryan Gaul).
Haddish said her character, Shay, is a successful philanthropist who "sends her kids to the best schools and gives them the best clothes," while Tray has no money and has to adjust to a new world and fatherhood using skills he learned in prison.
Adding to the comedy gold is the very funny Cedric the Entertainer. He will play Miniard Mullins, who heads the halfway house where Tray stays and helps him transition back to society.
This will be Morgan's first major role since the 2014 accident in New Jersey that badly injured him and killed his close friend. And like the rebirth of his career, Morgan told TCA "The Last O.G." is about "second chances" and "redemption."
"The Last O.G" will premiere Oct. 24 on TBS.
Follow me on Twitter @ShondaMcClain.