Rashida Jones brings the funny on season 3 of 'Angie Tribeca'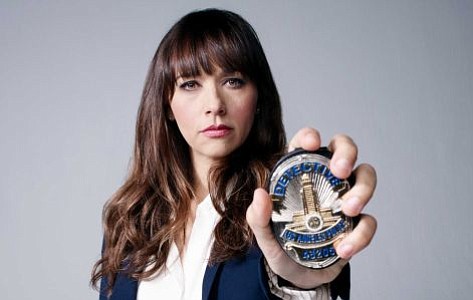 Rashida Jones has returned for the third season of her quirky TBS comedy "Angie Tribeca."
According to TBS, "Angie Tribeca leads a squad of LAPD detectives in the RHCU (Really Heinous Crimes Unit) who investigate the most serious cases, from the murder of a ventriloquist to a rash of baker suicides."
The talented actress was tapped by her former "The Office" co-star and the show's producer Steve Carell, to play the title character in the offbeat series that was inspired by the satirical physical comedy of "The Naked Gun" franchise and "Airplane."
"I didn't read for it," Jones told Deadline.com. "Steve and Nancy (Carell) emailed me directly and said, 'We have this script. We have you in mind. It's really dumb and we hope you like it.' I liked it very much, but I wasn't looking to return to TV after having a daydream job on 'Parks and Recreation.' I knew how difficult [that schedule] was. In addition, I was writing and producing. But this was non-negotiable."
Jones, 41, said she hesitated before accepting the role, but eventually decided to take the job to hone her comedic chops.
"Every single scene is highly choreographed as there are several visual gags in any given scene. I say, 'It's a booby trap,' and then someone is touching the boob on the mannequin. There's so much technical stuff that has to be worked in," she told Deadline.com.
Despite her family pedigree, acting was not always in the stars for the Harvard educated (she has degrees in religion and philosophy) daughter of music legend Quincy Jones and "The Mod Squad" actress Peggy Lipton. But after landing her first role in the mini-series "The Last Don" in 1997, she was bitten by the acting bug and appeared in a handful of small roles before landing her big break on the David E. Kelley drama "Boston Public" in 2000, followed by "The Office" and "Parks and Recreation." With her role on "Angie Tribeca," Jones has joined the ranks of a coterie of Black women in lead roles on television.
"There's a high level of difficulty to what she's doing," Steve Carell said of Jones during the Television Critics Association winter tour in 2016. "She makes it look effortless. But she plays the part and commits to it, giving it depth amid all the absurdity and the silliness. She's the lynchpin for the entire show."
"Angie Tribeca," which also features James Franco and Deon Cole ("black-ish") airs Mondays at 10:30 p.m.
Follow me on Twitter @ShondaMcClain.