Oprah Winfrey stars in "The Immortal Life of Henrietta Lacks"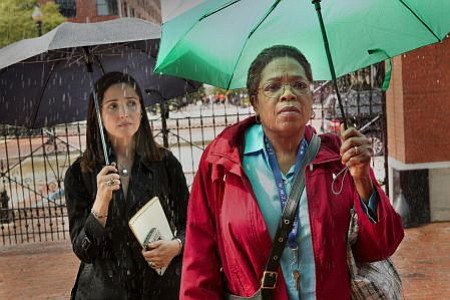 Oprah Winfrey admits to suffering from a case of the nerves when contemplating her role in the new HBO film "The Immortal Life of Henrietta Lacks."
"I didn't want to take on this role," Winfrey told CNN. "I was intimidated by it. I was nervous. I just didn't know if I could do it."
The film, based on the best-selling book by Rebecca Skloot, documents the life of an African-American woman whose cells were taken from her during her treatment for cervical cancer in 1951 at Johns Hopkins Hospital without her consent and used in research for decades. She died shortly thereafter at age 31. Her family was never informed that her cells had been harvested.
Winfrey plays Henrietta's daughter Deborah who searches for the truth about her mother's "immortal" cells, coined "HeLa," which Dr. Francis Collins, director of the U.S. National Institutes of Health called "perpetual, everlasting, death-defying, or whatever other word you want to use to describe immortal." According to The Associated Press Henrietta's immortal cells "became crucial for key developments in such areas as basic biology, understanding viruses and other germs, cancer treatments, in vitro fertilization and development of vaccines, including the polio vaccine."
"I heard Deborah [Lacks] on tape, that Rebecca Skloot, the author of the book had, saying she wanted me to [play her]," Winfrey, who as serves as the film's executive producer continued. "So, I really did it to honor her, to serve that notion of her completing the circle for finding her mother, telling the story in the book and then getting it out into the world."
The film, directed by George C. Wolfe and featuring Tony Award winner Renee Elise Goldsberry ("Hamilton") as Henrietta and Rose Byrne ("Damages") as Skloot, debuted April 22 on HBO.
Follow me on Twitter @ShondaMcClain