How the Phillies will fare in 2017
Maya Hughes | 4/23/2017, 8:53 a.m.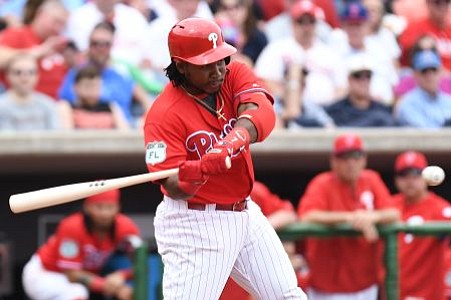 Outfield:
The outfield is where the Phillies hope to have made some real strides from last year. In particular, the corner positions where they got below replacement level contribution from the players manning those spots. In the off-season, the Phillies addressed both of those positions signing Howie Kendrick and Michael Saunders for left and right field respectively.
Odubel Herrera had an All-Star season, and was one of the most consistent hitters on the roster, but was also second on the team in strikeouts (134). He must make better contact, and will have to knock in more runs for someone who will be projected to bat in the middle of the lineup.
Catchers:
Starting behind the plate, will be Cameron Rupp. If Rupp duplicates his 2016 performance in 2017, the Phillies will feel comfortable allowing Jorge Alfaro more time to develop in the minor leagues.
Bullpen:
Two of the most impactful moves the team made this offseason was acquiring Pat Neshek and Joaquin Benoit to round out the young bullpen. Jeanmar Gomez will start the season as the Phillies' closer but Pete Mackanin won't hesitate to move on to one of the younger candidates if he struggles.
Projection:
The Phillies are accelerating their rebuild and committing to their future by putting their young stars in position to get some important experience while adding experienced veterans to fill the holes in their roster. However, Philadelphia is still one of the weaker teams on paper in the National League, so it makes sense to expect some inconsistencies throughout the season. So while the playoffs aren't really in play for Philly this season, for the first time in a while, the Phillies are young, interesting and heading in the right direction.