How the Phillies will fare in 2017
Maya Hughes | 4/23/2017, 8:53 a.m.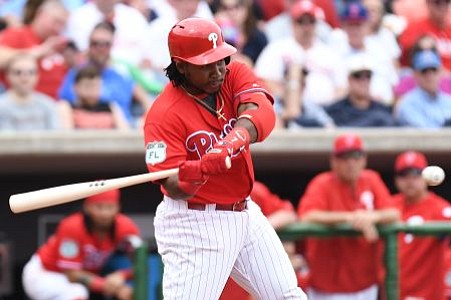 After going 71-91 in 2016, the Phillies will continue their rebuilding program in 2017. The Phillies made the playoffs every season from 2007 to 2011, winning the title in 2008, but have now been under .500 in each of the last four seasons, including 90+ losses the last two years.
Here is a preview of the Phillies upcoming season.
Rotation:
The 2017 rotation will be rounded out with a combination of young starters, all of whom had their ups and downs through the season in 2016. Jerad Eickhoff was most consistent of the three, making 33 starts and throwing 197 innings. Eickhoff came to the Phillies as part of the package the Rangers gave up for Cole Hamels. He led all Phillies pitchers in innings pitched, however, Eickhoff surrendered 30 home runs last season, a number he will look to bring down in 2017. Aaron Nola could have been thought of as the team's ace headed into this season, but was shut down in July after making 20 starts due to an elbow issue. Through his first 12 starts, Nola was the Phillies' best starter going 5-4 with a 2.65 ERA.
As important as 2017 is for Nola, Vince Velasquez is the Phillies starter worth paying the most attention to this season. Velasquez pitched in one of the most memorable games of the 2016 season, throwing a complete game shutout against San Diego on April 14th. He dominated with his fastball, striking out 16 Padres and only giving up 3 hits. That day was a glimpse into what could be with Velasquez on the mound, but in order to be a starter, he will need to develop his third pitch and go out on the mound and perform consistently. The Phillies have more young arms that are still developing in the minors, some who saw some action last season: Zach Eflin, Jake Thompson, Adam Morgan and Alec Asher all spent time in the rotation in 2016, combining for 47 starts.
Middle Infield:
Second baseman Cesar Hernandez led the team in hitting, but was criticized for not producing in clutch situations. However, he should be at the top of the lineup or batting second, so he can get on base and swipe some bags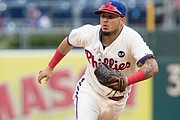 Freddy Galvis is an outstanding defensive shortstop. He ranked third in defensive runs saved by shortstops and forth over-all by any position. Unfortunately, he had the worst on-base percentage in all of baseball last year. However, it is his glove that keeps him in the lineup. His role with the club in the not too distant future may be that of a back-up infielder as the Phillies top minor-league prospect J.P. Crawford may get a look sometime this season.
Corners:
Tommy Joseph wrestled first base away from longtime keeper Ryan Howard, and hit 21 home runs in 107 games. Meanwhile, third baseman Maikel Franco hit 25 home runs and knocked in 88. These two will be in the middle of the lineup, and will need to continue the progress they made in 2016 if this team is going to improve.