NFL Draft in Philadelphia: List of public activities
Maya Hughes | 4/16/2017, 4:07 p.m.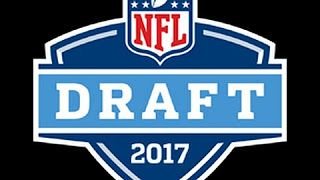 As the NFL sets up shop in Philadelphia, which will host the draft from April 27 to 29, here are some details about this year's draft in the City of Brotherly Love.
This year's NFL Draft Experience will take over the Benjamin Franklin Parkway in Philadelphia for three days with 25 football fields worth of action including interactive exhibits like the Combine Corner and NFL Virtual Reality, awesome memorabilia in an NFL Museum, photo ops with the Vince Lombardi Trophy and access to view media interviews with NFL greats.
The activities include:
Combine Corner – From racing against NFL players to running routes, fans can test their football and athletic skills at Combine Corner, which includes the Vertical Jump and 40-Yard Dash.
NFL Virtual Reality – Experience NFL games using virtual reality technology.
The Vince Lombardi Trophy – Fans will have the opportunity to take their photo with the Super Bowl trophy.
AFC & NFC Locker Rooms – Visit a replica NFL locker room as it appears on game day. Experience the sights of an NFL pregame with sleek translucent LCDs.
NFL Museum (Pro Football Hall of Fame display area) – This exhibit features historical Eagles memorabilia, Super Bowl rings and Conference Championship trophies. Fans can get a digitalized Pro Football Hall of Fame bronze bust in their likeness.
College Football Corner – Fans can view College Football Hall of Fame memorabilia from former first round Draft picks and Eagles legends, and cheer on Draft prospects from their favorite college team. Life size player mannequins offer unique photo opportunities.
NFL Draft Experience Tailgate – Enjoy selections from some of Philadelphia's best restaurants in a "taste of the town" tailgate.
NFL Network Set – Watch NFL Network analysts break down the NFL Draft.
ESPN Set – Check out SportsCenter LIVE from NFL Draft Experience.
NFL Shop at Draft – Stop by for the largest assortment of NFL Draft merchandise, including customizable Nike Jerseys and the official 2017 NFL Draft Cap by New Era and other exclusive Draft caps.
The fan action serves as the backdrop to major sports news-making with the NFL's rounds of player drafts taking place daily inside a 3,000-person theater right on the Parkway. Players will walk up the Art Museum "Rocky" steps once they are drafted.
Philadelphia is no stranger to the NFL Draft. On February 8, 1936, the first NFL Draft took place at Philadelphia's Ritz-Carlton. The selection consisted of nine rounds, zero team scouts and no media coverage. Teams took turns picking from the 90 names written on a blackboard.