Will Beyonce join cast of 'Lion King?'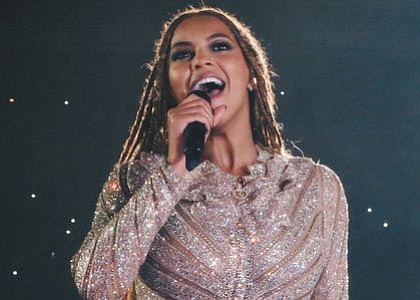 The "Lion King" is getting a reboot. The beloved Disney classic is being retooled as a live-action film, joining "Beauty and the Beast" and "The Jungle Book," and rumor has it Beyonce is in talks to play the queen of Pride Rock, Nala.
According to Variety, Queen Bey tops director Jon Favreau's short list of actresses to voice the iconic role originated by actress Moira Kelly, however, those close to Beyonce say the superstar, who is pregnant with twins, has not made a decision. Beyonce, who announced her pregnancy on Instagram in February, gave a riveting performance at this year's Grammy Awards before announcing she was bowing out of headlining the Coachella Festival next month. She was replaced by Lady Gaga.
If the "Halo" singer, who has had star turns in "Dreamgirls" and "Obsessed," takes the role, she will join James Earl Jones, who is reprising his role as Musafa, and Golden Globe winner Donald Glover ("Atlanta") who is voicing Simba. This will be her first role since lending her voice to the 2013 animated film, "Epic," where she voiced, appropriately, Tara, the Queen of the Forest.
The "Lion King" is one of the most successful franchises in entertainment. With a box office haul of nearly one billion dollars worldwide, the film, originally released in 1994, is one of the highest-grossing animated films of all time. And according to The Associated Press, in 2014, "The Lion King" stage musical made history when it earned $6.2 billion in box office receipts, the highest of any work in any media in entertainment ever, surpassing "Phantom of the Opera."
Follow me on Twitter @ShondaMcClain.