Curator shares insight into new black history museum
Stacy M. Brown (NNPA Newswire Contributor) | 9/18/2016, 6:17 p.m.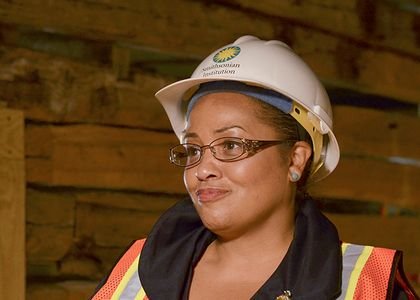 The new Smithsonian National Museum of African-American History and Culture contains an exhibit that features slave cabins, one that curator and museum specialist Mary Elliott called powerful.
Almost as powerful, however, is Elliott's recounting of the vital input and assistance by one local citizen who inspired many seniors and others to participate in the new museum.
"To get all the stories together about the slave cabins, we brought in the help of a genealogist and we used our local research here and reached out to the community," Elliott said. "And, when we were dismantling the cabin, the community came out and it was Black, White, young, older men and woman who were there. But, there was one young woman, whose name was Eileen, and she was very important."
Elliot said that Eileen was just over 50 and she really helped museum staffers connect with the elders in the community.
"It's a hard history and sometimes people don't want to talk about it, but she helped us to get the stories out," said Elliot. "She was a real dynamic person."
After taking the cabins to Virginia for conservation work and hosting a listening session that included Eileen and Eileen's grandmother, Elliott learned that Eileen died.
"She was younger than the elders that she helped get the stories from. Eileen had so much energy and spirit and was so passionate about the fact that the story was being told and correctly," Elliott said. "She may not be here on the 24th when this museum opens and that's heartbreaking, but I smile because her spirit will definitely be here."
It's been a long, arduous and incredible road to get to the September 24 grand opening and Elliott has helped to research, conceptualize and design the "Slavery and Freedom" inaugural exhibition.
She also contributed to the exhibition script, consulted with expert scholars, and identified and secured collection donations including the antebellum slave cabin that will be featured in the museum, according to the museum's website.
A graduate of Howard University and Catholic University of America's Columbus School of Law, Elliott helped produce local history exhibits in the Washington, D.C. area and produced several public history programs.
Now, as the opening of the historic museum rapidly approaches, Elliott told the NNPA Newswire what she's most excited about and how she's handling all of the excitement surrounding the historic grand opening.
"I really appreciate the collective effort to get the story out and let people know what they are going to see before they get here. People ask me, 'Are you excited?' And, truthfully, I get reflective," said Elliott, who has served as a contractor and consultant to various organizations including the National Visionary Leadership Project, the Association for the Study of African American Life and History, the Reginald Lewis Museum of Maryland African American History and the Humanities Council of Washington, D.C.
"I think about family, relatives, ancestors, those I knew personally and those before them," Elliott said. "I think about my church family and my community and I get so full, because I cannot wait for people to see the museum not just as a building, but to hear people say about our history that, 'I never looked at it that way, wow,' and to have them think a little differently about their approach to American history and understanding the African-American experience."