High School football players join anthem protest
Maya Hughes, South Jersey Journal | 9/15/2016, 1:49 p.m.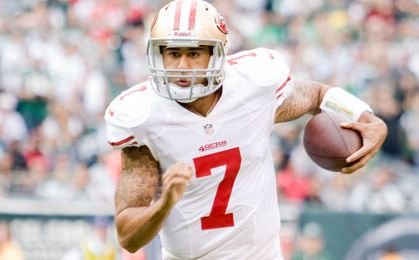 A South Jersey High School football team joined in on the high-profile protests by San Francisco 49ers quarterback Colin Kaepernick and other sports stars. The protests have sparked a national debate about freedom of expression, the true meaning of the national anthem lyrics, and a continued debate over racial inequality in America.
Players and coaches from Woodrow Wilson Tigers carried out a silent demonstration as a recorded version of "The Star-Spangled Banner" played at the team's field in Camden before a match-up against Highland High on Sept. 10. The Tigers demonstration was to draw attention to social injustices and economic disparities. Seniors Edwin Lopez and Tyler Parsons did not participate in the protest and stood during the anthem.
"The District supports standing for the flag, but this is a personal issue, and we strongly respect our students' experiences and their exercising our country's First Amendment rights," said district spokesman Brendan Lowe in a statement. "Whether our students choose to stand, kneel, or otherwise, we're proud of their engagement with what is more broadly a very important social justice issue."
Tigers coach Preston Brown initially planned to take a knee alone and informed his team about the decision the day before the game. It wasn't until the anthem played before the game, that Brown saw his team would join him in his protest.
"We're not disrespecting the military," Brown said in an interview with Dom Giordano at Talk Radio 1210 WPHT. "We're not disrespecting the police. I work very closely with the Chief of Police, Scott Thompson, and some of the sergeants here in the city of Camden to make sure that I can do whatever I can from a community standpoint to support them. So we're not bashing police or anything like that. We're kneeling because we're hurt. As people of color, we are hurt. When you kneel in sports, that's the analogy, that the connotation we're trying to create."