Allen Iverson inducted into Hall of Fame
Shaquille O'Neal, others also included
Maya Hughes, South Jersey Journal | 9/12/2016, 9 p.m.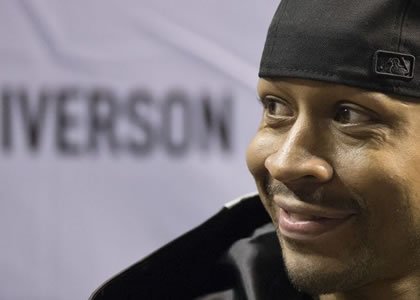 Former Philadelphia Sixers guard Allen Iverson was inducted into the Naismith Memorial Basketball Hall of Fame Sept. 9 in Springfield, Massachusetts. The Sixers superstar, who changed the culture of the NBA through his style and by being true to himself, dressed formally, donning a black tie and tuxedo for his enshrinement.
Presented by former Georgetown coach John Thompson, former Sixers coach Larry Brown and fellow Sixers legend Julius Erving, Iverson was elected to the Hall in his first year of eligibility.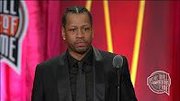 At the podium, Iverson stopped often during his 31-minute speech to compose himself. Rocking nervously from side to side, he went through a long litany of "Thank-you's" and "I-love-you's".
During the beginning of his speech, Iverson addressed his former college coach Thompson.
"I want to thank Coach Thompson," Iverson said while fighting back tears. "For saving my life. For giving me the opportunity. I was recruited by every school in the country for football and basketball. An incident happened in high school and all that was taken away. No other teams, no other schools were recruiting me anymore. My mom went to Georgetown and begged him to give me a chance. And he did."
Iverson ended up playing two seasons at Georgetown, averaging 23 points per game. In 1996, he was named an all-American before he declared for the NBA draft.
Iverson then acknowledged Coach Brown, who he said was responsible for him becoming a Hall of Famer.
"Once I started to listen to Larry Brown and take the constructive criticism, I learned how much of a great, great, great coach he is," he said. "That's when I became an MVP, that's when I became an all-star."
Some of the other highlights from Iverson's speech included: honoring his family, his first on-court experience with his idol Michael Jordan, calling out his former friends who crossed him, and giving a special nod to Philly fans.
"My relationship with the fans in Philly is like no other," he said as his fans cheered him on from the balcony. "They supported me through my ups and downs."
He thanked Sixers broadcaster Marc Zumoff, most of the team's front-office staff, and former owner Pat Croce. He thanked all of his teammates by name during his tenure with the Sixers. He also thanked an obscure Georgetown walk-on, Dean Barry, whom he said taught him the crossover move that became his signature.
During his 15-year career, Iverson played for four teams during his NBA career, suiting up for the Sixers, Denver Nuggets, Detroit Pistons and Memphis Grizzlies before returning to Philly for 25 games in the 2009-10 season. He played for a Turkish basketball team during the 2010 season, suiting up for just 10 games.
Iverson was voted the league's Rookie of the Year in 1996-97, made three All-NBA first teams, three All-NBA second teams, and an All-NBA third team. He was an 11-time All-Star, playing in the exhibition game every year from 2000-2010. He currently resides in 19th place on the all-time scoring list with 24,368 points and has the seventh highest scoring average in NBA history with 26.7 points per game. His playoff scoring average of 29.7 points ranks second only to Michael Jordan. He led the league in scoring four times.
Iverson was one of 10 inductees into the Naismith Memorial Hall of Fame. He was joined by Shaquille O'Neal, Yao Ming, Sheryl Swoopes, Tom Izzo, Jerry Reinsdorf, Darell Garretson, Cumberland Posey, Zelmo Beaty and John McLendon, inducted as a coach 37 years after he was inducted as a "contributor."