What will the Eagles do in 2016?
Team makes changes in coaches, roster
Maya Hughes | 9/10/2016, 7:53 a.m.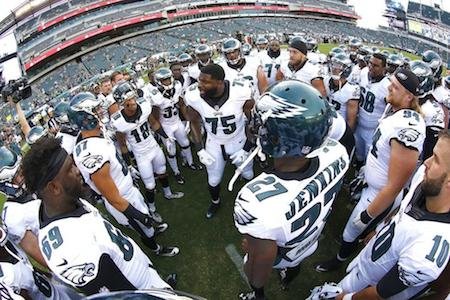 After finishing 10-6 in the both the 2013 and 2014 season, the Philadelphia Eagles regressed in 2015 with a record of 7-9. Owner Jeffery Laurie stepped in and made some huge changes to the roster.
The Philadelphia Eagles made coaching changes during the offseason, going from Chip Kelly to former Eagles QB and Andy Reid coaching protégé Doug Pederson. They followed that move by going all-in in the draft, trading up to take quarterback Carson Wentz at No. 2. While there are still some players on the roster from the 10-win team, there are still areas of concern that the Eagles have yet to address, particularly on the offensive side.
Offense: The Eagles will have a first-round 2017 draft pick after trading quarterback Sam Bradford to the Minnesota Vikings on Sept. 3.
They signed former Kansas City backup Chase Daniel to provide reinforcements under center and were planning to spend a draft pick on a young quarterback they would groom for the future. The Eagles jumped up to the second overall spot in the draft and chose North Dakota State's Carson Wentz.
Daniel has the advantage of having spent the last three seasons with Pederson in Kansas City. Wentz is a big-armed mobile passer who led North Dakota State to a pair of FCS titles and has the smarts and tools to be successful in the NFL.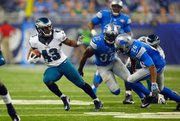 The Eagles' running back core is still a work in progress. The DeMarco Murray experiment failed spectacularly last year, and the Eagles dished him to Tennessee during the offseason. That leaves Ryan Mathews, who carried the ball just 106 times last year, as the main back. Darren Sproles should see plenty of snaps while splitting time on special teams. Fifth-round pick Wendell Smallwood, who led the Big 12 in rushing last year, but had some off-field issues, will get a chance for some carries.
They will run behind a line that also has some question marks, most notably Pro Bowl left tackle Jason Peters, whose play has slipped the past couple years due to injury. Right tackle Lane Johnson has been steady, but he might miss the first ten games due to a possible failed drug test. Brooks, however, will provide stability at the guard position. At his best, he is one of the league's better run blockers.
At the wide out position, this unit has plenty of high-round draft picks and potential, but doesn't have the production to match it yet. Third-year man Jordan Matthews is a proven slot weapon, but has no downfield ability. Second-year man Nelson Agholor caught only 23 balls last season and remains an unknown quantity. Josh Huff, newcomer Rueben Randle and Chris Givens are hardly inspiring options. However, the tight end group looks strong, as both Brent Celek and Zach Ertz put up great numbers last year.
Defense: Despite having 37 sacks, the Eagles finished 30th in total defense last year, in part due to a gaping time-of-possession deficit caused by Kelly's up-tempo offense. Second-year linebacker Jordan Hicks was a revelation last year before tearing his pectoral muscle. He'll work with Mychal Kendricks, who must become more dynamic, and newly acquired Nigel Bradham on the second line of defense.
The Eagles also reconfigured its secondary during the offseason. The secondary stalwart is safety Malcolm Jenkins, and the Eagles are excited about free-agent arrival Rodney McLeod. But, the cornerback situation is not ideal. Neither journeyman Nolan Carroll nor second-year performer Eric Rowe is a standout, and former Bill, Leodis McKelvin is not a front-line starter. The Eagles tried to upgrade things through the draft by acquiring safety Jalen Mills and versatile Blake Countess, but both were late-round choices, and it's unlikely either will play a big role this year.
Season Outlook: There were a lot of changes on both sides of the ball in the offseason. With new coaches, system, and players, this year will be a rebuilding season for the Eagles.