Colin Kaepernick continues protest, joined by teammate
San Francisco 49ers quarterback will donate $1 million to causes
Maya Hughes, South Jersey Journal | 9/5/2016, 10:57 a.m.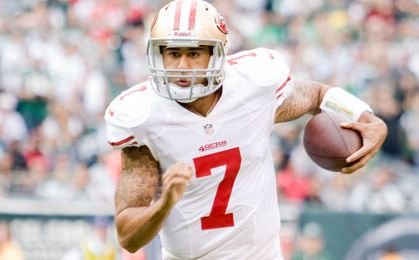 San Francisco 49ers quarterback Colin Kaepernick continued his peaceful protest against racial injustice Sept. 1 against the San Diego Chargers during the 49ers last preseason game.
While a naval officer sang "The Star-Spangled Banner," at Qualcomm Stadium in San Diego during the Chargers annual pre-season Salute to the Military, Kaepernick along with teammate Eric Reid dropped to one knee on the 49ers sideline. This was the first time Reid protested during the national anthem and Kaepernick's second.

"I just wanted to show my support for him," Reid said. "He wanted to make it clear that he wasn't trying to be disrespectful to the military or the national anthem, so he decided to change his position to be more respectful, but still bring awareness to the issues that he believes are going on in this country, and that I wholeheartedly believe exist in this country."
Kaepernick cited numerous reasons for his actions, ranging from racial injustice and minority oppression to police brutality and the treatment of military veterans, however he decided to change his protest from sitting during the national anthem to kneeling after a 90-minute discussion with former Army Green Beret and long-snapper Nate Boyer. Kaepernick says the shift in stance was an effort to be more respectful to the people offended by his protest.
"We were talking to him about how can we get the message back on track and not take away from the military, not take away from the pride in our country but keep the focus on what the issues really are," Kaepernick said. "As we talked about it, we came up with taking a knee because there are issues that still need to be addressed and there was also a way to show respect for the men and women that fight for this country."
Seattle Seahawks cornerback Jeremy Lane also showed his support for Kaepernick by sitting on the bench during the anthem during their last pre-season game against the Oakland Raiders.
"It's something I plan to keep on doing until I feel like justice has been served," Lane said. "No, I didn't tell anyone I was going to do it. I just did it. ... I don't mean no disrespect toward anybody, but I'm just standing behind what I believe."
Kaepernick said he plans to continue his protests during the regular season. He also intends to donate $1 million "to different organizations to help these communities and help these people," declining to provide specifics.
"The message is that we have a lot of issues in this country that we need to deal with," Kaepernick said. "We have a lot of people that are oppressed. We have a lot of people that aren't treated equally, that aren't given equal opportunities. Police brutality is a huge thing that needs to be addressed. There are a lot of issues that need to be talked about."
The Associated Press contributed to this article.