Ryan Howard ends great career with Philadelphia Phillies
Maya Hughes | 10/3/2016, 9:42 p.m.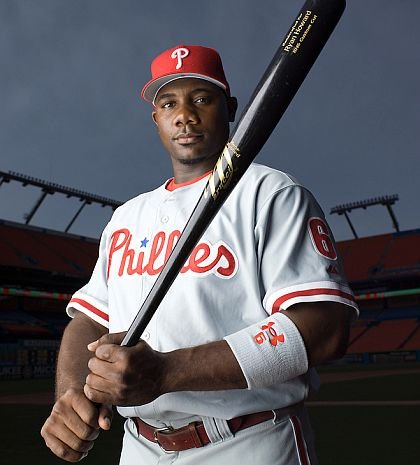 It's an end of an era for the Philadelphia Phillies organization.
Ryan Howard, the last member of the 2008 World Series Champions, has played his final game as a Phillie on Oct. 2 against the New York Mets during the club's annual fan appreciation day. The Phillies and Howard are set to part ways after the season ends. The Phillies are planning to pay Howard a $10 million buyout instead of exercising a $23 million club option for 2017.
To celebrate Howard's legacy as a Phillie, the organization held a 15-miunte pregame ceremony. The team dedicated a plaque in Section 145, Row 7, where Howard's 58th home run in 2006 landed. His son, Darian unveiled it. Howard also received a hand painted glove, presented by owner John Middleton and Chairman David Montgomery.
"It's been fun, man, these last 12 years," Howard said during the pregame ceremony. "You guys all made it possible. The Phillies, I want to thank you guys for taking a kid in the fifth round out of, well now it's Missouri State, but Southwest Missouri State University. Giving me the opportunity. This city as a whole, I want to thank you because I've grown with all of you. Thank you again from the bottom of my heart."
Howard, 36, has played 12 years with the Phillies going back to 2004. He is a three-time National League All-Star (2006, 2009, 2010), and has won the Silver Slugger Award, Hank Aaron Award, and the NL Championship Series MVP Award in 2009.
Known for his power, Howard is a member of the 50 home run club. He is a two-time NL home run champion (2006, 2008), and became the fastest player to reach both the 100 and 200 home run milestones in MLB history, passing the marks in 2007 and 2009, respectively. He smashed 382 home runs and drove in 1,194 RBIs. He also guided the Phillies to a 2008 World Series championship.
He could have done more, but he suffered an Achilles injury in the 2011 National League Division Series against St. Louis Cardinals. It seems like the injury and age had an impact on his production in recent years. Despite a dismal batting average this season, Howard did produce 25 home runs and 59 RBIs considering he wasn't an everyday player. His last Phillies homerun was against the Mets at Citizen's Bank Park on Oct. 1.
He was recently recognized for being the Phillies nominee of the 2016 MLB Roberto Clemente award. The award "best represents the game of baseball through extraordinary character, community involvement, philanthropy, and positive contributions, both on and off the field."
Howard and his wife, Krystle, created The Ryan Howard Big Piece Foundation in 2013. The foundation focuses on "engaging children, specifically those who lack athletic and educational opportunities, in the fundamental area of literacy."
Its first program, The Ryan Howard Reading Challenge, encouraged students in a Philadelphia public school to read 20 minutes a day, seven days a week. The program resulted in more than one million minutes of reading by students, which Howard used as an incentive to award the school a grant for a new reading room.
The interactive, baseball-themed room, dubbed Howard's Homeroom, at Vare-Washington Elementary School is filled with books, computers and iPads for students to read, create and dream. Howard raised $75,000 to provide the room by holding events on his off-days. The new Phillies Urban Youth Academy was also unveiled this summer in South Philadelphia and it was named the Ryan Howard Training Center.
Howard will go down as one of the greatest players in Phillies history.