Democrats Could Lose Even More in 2018
Julianne Malveaux (NNPA Newswire Columnist) | 11/22/2016, 10:26 a.m.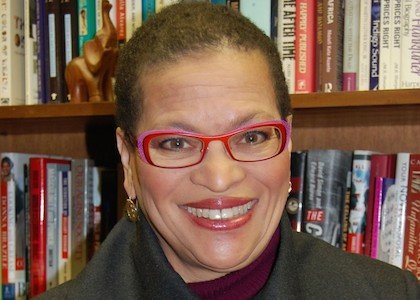 The apprehension that I felt upon Donald Trump's victory in the presidential election has only increased as he has announced the appointments of his chief of staff, strategist, and cabinet members. As of this writing, he has mainly announced the selection of older White men, including the racist, Alabama Senator Jeff Sessions, to lead the Justice Department. The senator's use of highly inflammatory racial rhetoric (including describing the NAACP as an "un-American" organization, and expressing support for the KKK) prevented his confirmation to the U.S. District Court in 1986. Now, he will be charged with law enforcement in our nation.
Equally troubling has been the selection of Stephen Bannon, his campaign chairman, as chief White House strategist and senior counselor. Bannon is the Executive Chairman of Breitbart News, a news website that has been the home of the alt-right, the source of lies, hate, nastiness and racist rhetoric. President Barack Obama had to walk away from Minister Jeremiah Wright because one of his sermons was considered racist by some Whites. Trump openly embraces racists and is applauded for it.
The position that Bannon will hold does not require Senate confirmation, while the position that Sessions will be nominated for does. With 54 Republicans in the Senate, Sessions is almost certain to be nominated. Hopefully Democrats have retained enough of a backbone to raise questions about Sessions' racism. Senate newcomers Kamala Harris (D-Calif.) and Catherine Cortez Masto (D-Nev.) may be among the first to raise the questions. Still, Republicans will have the votes to confirm anyone they want to confirm. Welcome to the age of Trump.
Will Republicans get more of an edge in the Senate when we go to the polls in 2018? Thirty-three Senate seats will be up for grabs then. Republicans hold eight of them. Independents Bernie Sanders (I-Vt.) and Angus King (I-Maine), who caucus and vote with Democrats are both likely to be candidates for re-election. A whopping 23 seats currently held by Democrats could be flipped. If some of the states that went Republican in this year's election can be tilted, Republicans can widen their margin in the Senate.
The Trump campaign (and its affiliated super PACs) have as much as $60 million to spend, and can use it to build ground operations in states where Democrats closely lost this year. (Hillary and her affiliated super PACs may have as much as $70 million to spend). Democrats lost Michigan, Wisconsin, Pennsylvania, Florida, North Carolina, and Arizona by less than five percent. Incumbent Democrats Tammy Baldwin (D-Wisc.), Sherrod Brown (D-Ohio), Bob Casey (D-Pa.), Joe Donnelly (Ind.), Amy Klobuchar (D-Minn.), Joe Manchin (D-W.Va.), Bill Nelson (D-Fla.), and Debbie Stabenow (D-Mich.) are all in states that Republicans won in 2016. While many of them are popular, and incumbency is a challenging thing to overcome, we've just seen that the right kind of Republican candidate can prevail.
These candidates, and the Democratic Party, can't afford to take incumbency or popularity for granted. They can't afford to savor a polling lead and conclude that they don't have to fight for every vote. If these folks want to go back to Washington, they'll learn from the Hillary Clinton loss and work indefatigably, starting now, to keep their seats. They'll make lots of visits back home, host town hall meetings, and make sure their voters understand what their contributions have been and what challenges they face.