Burlington-Camden Kappas honor African American women achievers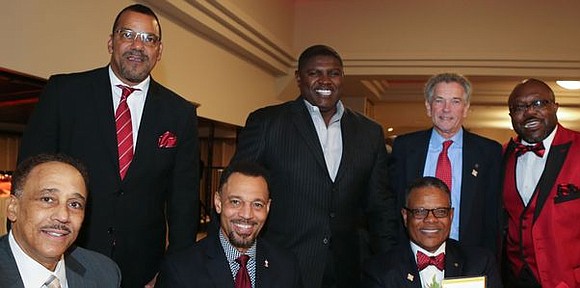 The Burlington-Camden (NJ) Alumni Chapter of Kappa Alpha Psi Fraternity, Inc., in conjunction with The Kappa Community Development Corporation recently hosted its 13th Annual Banquet Honoring African American Women of High Achievement. The honorees have many years of experience in the nursing, education, business, public service and news media industries.

The banquet was held Nov. 6 at Auletto Caterers in Deptford Township, NJ.
This year's honorees include the following:
• Dr. Thomasina Jones, Superintendent of Bridgeton Public Schools (NJ)
• Nyeema Watson Ph.D, Associate Chancellor for Civic Engagement at Rutgers University-Camden
• Dr. Neva White, Senior Health Educator at Thomas Jefferson University Hospital, Center for Urban Health.
• Ruby Love, Minister at First Baptist Church of Jericho, Deptford, New Jersey
• Cheryl Lillian Pitts, MSW, President of the Master School Board Member on the Winslow Township School Board
• Reva Foster, Executive Director of the Department on Aging
• Felicia D. Hopson, Vice President of Willingboro School Board
• Cherri Gregg, Community Affairs Reporter for KYW Newsradio
• Lee Sinclair Henry, Administrative Assistant for Monongahela Middle School in Sewell, NJ
• Brenda Hopper, Chief Executive Officer/ State Director of the New Jersey Small Business Development Centers (NJSBDC) network
• Penny Britt, Principal at Bridgeton High School.
• Joyce Gilchrist Pierce, Retired Educator in Haddonfield, NJ
• Wanda P. Hardy, Managing Principal of WP Hardy Consulting, LLC,