Tamar Braxton parts ways with 'The Real'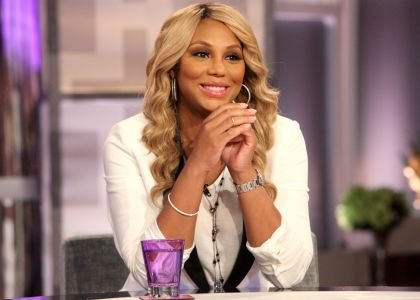 Things just got real for Tamar Braxton.
The reality TV star and Grammy-nominated singer has been booted from her daytime talk show, "The Real." Her husband and manager, Vincent Herbert, has also been relieved of his duties as executive producer, according to CNN.
Fans knew something was brewing when Braxton took to Instagram earlier in the week, posting: "I love u all but I have been stabbed in the back by someone I stupidly trusted (not my man or my sisters). I am not about to be tried and tested to snitch and it's not in good taste to tell you who...... but as #tamartians you are very smart and can figure things out on your own. But know that everyone who smiles in your face is NOT your friend and is NOT cheering for you and will LIE and try and tear u down to TRY and dim your light."
Executives from the show have confirmed that Braxton will not be returning for season three of "The Real," which debuted on Fox in 2013 with co-hosts Tamera Mowry-Housley, Adrienne Bailon, Jeannie Mai and Loni Love.
Was she stabbed in the back by her co-hosts? According to Love, who said she found out about Braxton's departure in a group text, the answer is no.
"When we wrapped our show for season 2 we had a photo shoot, Tamar was part of that," Love posted on her Facebook page. "We were planning on going to Essence, she was part of that so there was no indication that Tamar was going to be let go."
According to E! News, a rep from the show released a statement saying "The Real" and the "Love and War" singer mutually parted ways so that Braxton could concentrate on her solo career. "Everyone associated with 'The Real' appreciates Tamar's efforts and the contributions she has made to the show's success, and we wish her all the best for the future."
However, insiders are saying Braxton was fired because she was difficult to work with, nasty to producers and prone to tantrums on the set. A source has also told Page Six that "The Real's" parent company, Telepictures, is upset with Braxton's "haphazard use of social media" and is prepared to release a video of Braxton blowing up on set if she does not stop bad-mouthing the show and her co-hosts.
Braxton can still be seen on the WEtv reality shows "Braxton Family Values" and "Tamar and Vince."
Follow me on Twitter @ShondaMcClain.