Chadwick Boseman's Black Panther leaves fans wanting more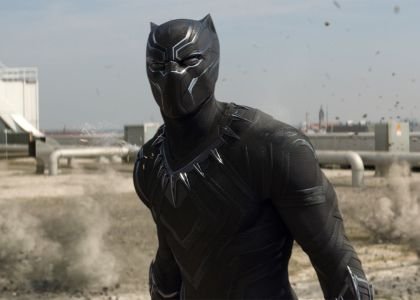 Black Panther made a spectacular debut this weekend in Marvel's "Captain America: Civil War." The film decimated the competition with $181.8 million stateside and nearly $700 million worldwide.
Brandishing retractable claws, a sleek black, body-hugging suit and the agile moves of a cat, Black Panther, played by Chadwick Boseman ("42" and "Get On Up") is introduced in "Civil War," as the T'Challa, the warrior prince of Wakanda, a mythical kingdom located in Northeastern Africa that is rich in vibranium, a rare and valuable resource. T'Challa is the son of T'Chaka, the Black Panther before him. It is not an origins story, but T'Challa, who aligns himself with Tony Stark's Iron Man (Robert Downey Jr.) against Captain America (Chris Evans) after a tragedy befalls his family, is as sexy and cool as he is mysterious and lethal - and he leaves fans wanting more.
His role in "Civil War" soundly lays the groundwork for his own franchise, "Black Panther," directed by Ryan Coogler ("Creed"), slated for release in February 2018.
"I felt constant anticipation of what's to come while doing this, which is a beautiful thing," Boseman told USA Today. "You always know this is going to get better and better."
Boseman's path to Black Panther is the type of story Hollywood legends are made of. "It was some weird sign, sort of, that it was going to happen," he told the hosts of "Live! With Kelly and Michael." I got in a conversation with the security on set for this movie called 'Gods of Egypt' in Australia, and we didn't really even talk about Black Panther at all, but he had them put the first issue of Black Panther - his original issue from when he was a kid - in my trailer and wrote a note that said, 'You're going to get this role.'"
Filming for "Gods of Egypt" took place in 2014, well before Marvel decided to pursue Black Panther's storyline. The rest, as they say, is history.
Boseman, who is currently filming the Thurgood Marshall biopic "Marshall," had to tone down his comic book hero workout regimen to play the thoughtful, Supreme Court justice.
"I don't want Thurgood Marshall to have a big swollen neck and shoulders like Black Panther. He really worked out in law school."
"Marshall," directed by Reginald Hudlin, follows the first African-American Supreme Court Justice as he battles through one of his career-defining cases. A release date has not been set.
Follow me on Twitter @ShondaMcClain.