A Woman's Business to host Power To Be Tea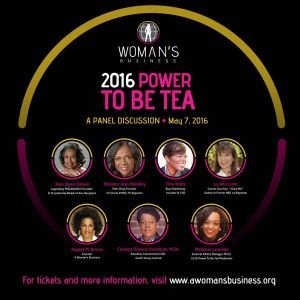 A Woman's Business, an international outreach effort for women to restore their image and purpose, will host the 2016 "Power to Be Tea" on Saturday May 7.
The event features women representing media, business, politics, non-profits and home, the Power To Be Tea seeks to highlight how women are perceived around the world, address the many ways women are underrepresented and misrepresented and showcase the impact women can have when they unite their voices, hands, feet and money to address causes of interest to and affecting women. Following the discussion, there will be a presentation of the annual LeadHERaward, recognizing an individual who is about A Woman's Business to change the perception and restore the position of women around the world.
This year's tea is scheduled for Saturday, May 7, 2016 from 11 a.m. - 2 p.m. at The Palace in Blackwood, New Jersey, this year's theme is "Dream Deferred" to inspire and equip women to overcome disappointment and barriers to fulfilling their God-given dreams, featuring legendary PHILADANCO Founder Joan Myers Brown; Teen Shop Founder & Former KYW3-TV Reporter Elleanor Jean Hendley; Buzz Marketing Founder & CEO Tina Wells; Former NBC 10 Reporter, Cancer Survivor and "I Dare Me" Author Lu Ann Cahn; and A Woman's Business Founder Angela M. Brown, among other dynamic women.
There will be a morning workshops beginning at 9 a.m. before the tea and panel discussion. For more information, tickets or to request a sponsorship package contact info@awomansbusiness.org