Inspira unites with the American Cancer Society in the fight against colorectal cancer
Inspira joins national effort to save lives from colorectal cancer by 2018 through increased screening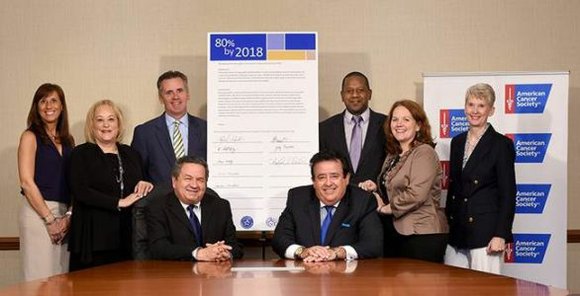 Inspira Health Network recently announced their commitment to increase colorectal cancer screening in South Jersey by joining a national effort with the American Cancer Society in the fight against the disease.
The national percentage of adults 50 and older that are up-to-date with recommended colorectal cancer screening has increased from 56 percent in 2002 to 65 percent in 2010. By focusing on target audiences-newly insured, financially challenged, insured procrastinators/rationalizers, African Americans, and Hispanics – Inspira seeks to achieve 80 percent screening for colorectal cancer by the year 2018.
Inspira says its commitment is a shared goal led by the National Colorectal Cancer Roundtable (NCCRT). The Roundtable was started by the American Cancer Society and the Center for Disease Control and Prevention (CDC) in 1997.
"Colorectal cancer is a major public health problem. Adults age 50 and older should be regularly screened for it. There are several screening options, including take home tests," said Dr. Alvaro Car rascal, Vice President of Health Systems for the American Cancer Society. "Colorectal cancer can be prevented or detected early through appropriate screening and tens of thousands of lives can be saved if we increase screening to reach 80% by 2018."
"If caught early, colorectal cancer is a preventable and very curable disease. Unfortunately, the rate of late-stage diagnosis in Cumberland, Gloucester and Salem counties is higher than the state and national averages. In addition, New Jersey ranks 34th out of 50 states in the screening rate for colorectal cancers," said Carol Thomas, vice president of Population Health for Inspira Health Network. "That is why Inspira has been partnering with local primary care doctors, community organizations, and the American Cancer Society to increase colorectal cancer screening. Together, we have made significant progress with screening in our communities and we are committed to reaching beyond the 80 percent goal."

Colorectal cancer is the nation's third-leading cause of cancer-related deaths, but it can be prevented. Through proper colorectal cancer screening, doctors can find and remove hidden growths (called "polyps") in the colon, before they become cancerous. Removing polyps can prevent cancer altogether.
For more information about colorectal cancer screening, please visit www.cancer.org/colon or contact the American Cancer Society at 1-800-227-2345. For more information about the 80% by 2018 initiative, visit www.nccrt.org.