The moment we have waited for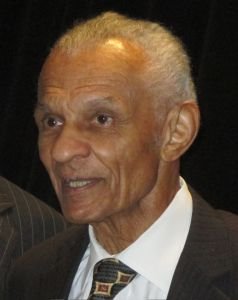 Rev. C.T. Vivian, legendary civil rights leader, believes young people today are inheriting the world at a unique crossroads in history and that "this is the moment we have waited for. When I say 'we've' waited for, I'm talking about humankind has waited for. I'm talking about all the great philosophers and thinkers have waited for this moment. We have lived like we have lived, blowing each other up, killing each other, stealing from each other, making a world that is not fit for human beings — we have lived that way because it's been allowed to be." But Rev. Vivian believes we are reaching a tipping point where many are realizing we just can't go on this way and survive. I truly hope so for our children and grandchildren's sake!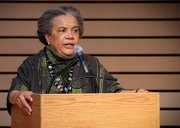 Rev. Vivian, a Presidential Medal of Freedom winner, leader in the Southern Christian Leadership Conference (SCLC), a confidant of Dr. Martin Luther King, Jr., and a role model for so many of us in the 1960s era of civil rights activism and still, has been and remains an indispensable long haul moral, racial and economic justice warrior. At 91 years young he has a crystal clear message for today's young people and all of us. He inspired and challenged a receptive Children's Defense Fund audience of college students when he said he is convinced this is the generation that will finally create new ways of solving social problems to make that new, better world we must build together with urgency and persistence.
"The human drama of your time will not be a military drama . . . Even if they want it, it can't happen, because we've come to the point that violence cannot solve human problems . . . We can't live in an atomic world and think like we used to think in terms of how wars were fought, in terms of how men killed each other, because today, if we decide to live like we lived yesterday, none of us will live at all." Instead, "we have to come with a different understanding of our relationships to the world around us, and that's the most important thing of all . . . You can't live in yesterday's world. And I want you to be very thankful of that, because you are forming the new world to be and the old world has no place in it."
Rev. Vivian believes "if we are wise, we will not allow any of us to treat the rest of us as though we were less than rather than more than." And he looks to history to prove that hatred and violence always destroy more than they create and always turn back the clock of progress. "By the time the First World War ended and the killing was over, Europe was destroyed," he said. "All the work and hope and dreams that went on before it were destroyed in the midst of it. Second World War, right, we did the same thing – we destroyed what we had worked for and hoped for and dreamed for. War cannot be used anymore because you can't create the beloved community on yesterday's understandings. We will destroy more than we create, and you can't have the world you want that way. It's up to us to create the world we really want."