Christie rejects Atlantic City's request for more money
City plans to pay some workers with IOU's
Atlantic City will virtually come to a halt in the month April, as the already nearly depleted coffers will run bone dry, according to the mayor of the financially beleaguered resort town.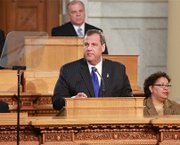 At a press conference on March 24, Atlantic City Mayor Don Guardian said all essential city workers—including police and firefighters, have volunteered to report for work between April 8 and May 2 without being paid on time. Guardian said the city will run out of money in the next week or so, unless an emergency loan is granted by the state---a request that Gov. Chris Christie has flatly rejected. Guardian said a loan of about $8.5 million is needed in order to keep the city operating. However, Christie said he would sign existing financial legislation without modifying the terms of the original documents along with state Democratic Senate President, Stephen Sweeney.

"I will not give Atlantic City more money, absolutely not," Christie said at a press conference last week. "The credit card has been cut up and canceled!" Christie added that due to a long history of mismanagement by the current and previous administrations the resort town has found itself in current financial straits. "If police and fire want to volunteer their services based on the word of Don Guardian and hope they get paid when property tax receipts come in in May, that's up to them," he said.
Despite modest gains in some casino revenue in the past several months, the overall economic condition of Atlantic City remains flat—or by some accounts has gotten worse. A move by the state to take control of the day-to-day running of the financially strapped shore town has gained momentum in recent weeks and is nearly completed, despite objections from the mayor and dozens of AC residents, many of whom call the move "a hostile" takeover of Atlantic City. In addition, legislators recently approved a bill to build a casino in North Jersey---potentially adding to the financial woes of Atlantic City. Additional meetings to determine the fate of the city are scheduled throughout the week.