NJ African American Chamber honor leaders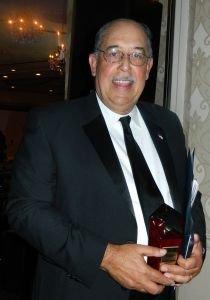 The African American Chamber of Commerce of New Jersey (AACCNJ) recognized the outstanding accomplishments of several Garden State residents recently at an elegant and posh black tie affair at the Mansion on Main Street in Voorhees, NJ.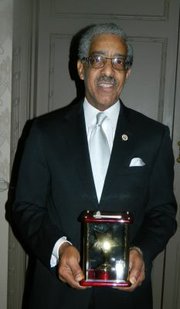 More than 200 people attended the Sixth Anniversary Circle of Achievement Awards gala—an annual event hosted by the AACCNJ that lauds the professional, educational and business achievements of notable African Americans. Congressman George Norcross was among the many dignitaries at the event.
The keynote speaker was Lt. General Russel Honore'--former commander and chief of the Hurricane Katrina Task Force and retired commanding officer of the U.S. Army. This year's recipients included: Emma Massey, owner of Massey Insurance Agency in Newark, NJ. Massey was awarded the Gus Heningburg Community Achievement Award for her community activism and business acumen across the state of New Jersey; Warren Thompson, CEO and owner of Thompson Hospitality in Reston, VA., received the Business Award for operating one of the largest African American owned businesses in the country; State Senator Ron Rice (D-Essex), and Bonnie Watson Coleman, U.S. House of Representatives New Jersey.

During his keynote address, Honore' said outstanding leadership and direction starts at home and grows into everyday life into our personal and professional relationships. "You can inspire trust only by being trustworthy," Honore' said. "For your family to trust you, your audio and your video have to match, as we say in the Army." Honore is credited with effectively dealing with the aftermath and military relief efforts in Hurricane Katrina battered New Orleans in 2005. Honore' promoted and signed copies of his recent book, "Leadership in the New Normal. The book chronicles the distinguished 37 year career of the military man and the struggle to rebuild New Orleans after Katrina. He writes, "After serving in some awful places in some awful weather under some awfully dangerous conditions and on all kinds of missions, I flew into New Orleans on a Navy aircraft and saw the absolute devastation caused by Hurricane Katrina. New Orleans showed me that up to that point I had never really been asked to do the impossible and that I really didn't know how vicious criticism could get." In an interview prior to his keynote speech, Honore' said to some degree, New Orleans is still continuing to recover from the natural disaster—more than 10 years after the storm. "It's still a work in progress," he said.
AACCNJ Chairman of the Board of Directors Hosea Johnson lauded the attendees for supporting the AACCNJ and advocating its mission. Johnson said, "The Chamber's strategic perspective is a comprehensive approach to economic and business development that benefits everyone in New Jersey and I salute all of you for your efforts to maintain and improve the quality of our communities."
Lastly, AACCNJ President and CEO John Harmon said this year marks the first time the gala was held in South Jersey. "Some of our members in the southern half of the state insisted that we have our annual gala closer to them so we accommodated them and will do it again next year," Harmon concluded.