Has Curry surpassed James as NBA's top player?
AFRO Sports Desk Faceoff | 3/7/2016, 12:27 p.m.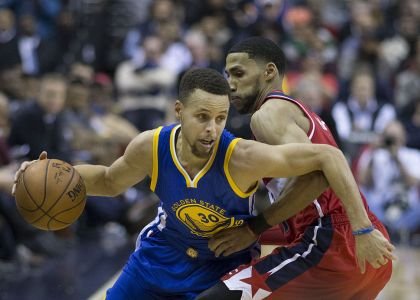 Since joining the NBA in 2003, LeBron James has been one of the prominent faces of the Association. He was billed as the next megastar of basketball in his high school years, and quickly became everything the hype projected him to be.
James held that title as league's top player for a decade, but now it appears the smooth-shooting Stephen Curry has overtaken him. Golden State's rising star point guard has continued his assault on the Association, following up last season's championship season with an even more impressive campaign. Curry has dominated the headlines this season, and made a legitimate case for claiming the spot as top player in the world. Has he overtaken James? Perry Green and Stephen D. Riley of the AFRO Sports Desk debate the question.
Riley: Curry is having perhaps the best season that I've ever seen from an NBA player. The Warriors are already in the middle of a record-breaking season, and Curry is having the best individual season since the prime years of Michael Jordan. For everything that James was predicted to be, it's somewhat ironic that Curry is only one championship away from tying James' so-called "greatness." The hardworking guard from North Carolina has taken a more traditional path to stardom than James, and he appears ready to fully capitalize on that hard work.
Green: You won't get much of a debate from me on this one, because I wholeheartedly agree. Curry has taken over as the game's most exciting and compelling figure. As James continues to age, the supreme athleticism that has made him so great is only diminishing. Meanwhile, Curry is still young with plenty of years left to reign over the league. Even when he gets older, his super powers won't diminish because they were never predicated on athleticism. Instead, Curry excels at shooting the ball unlike anyone we've ever seen, and you don't lose your shooting touch with old age. If anything, it only gets better and better.
Riley: It doesn't take much in sports to make critics and sports writers hand a player's title away. It's all about "what have you done for me lately," and Curry has given fans everything they could ask for, from championships to clutch shooting. It's been highlight after highlight for the diminutive Davidson guard—he's on a tear right now. If it continues at this rate, frankly we won't be talking about whether Curry has surpassed James, but whether Curry has surpassed Jordan. He's that gifted.
Green: Curry has a long way to go before we're putting him in Jordan's class, but he is at least on pace to challenge MJ's greatness. LeBron squandered his chance of succeeding Jordan years ago when he lost his second straight NBA Finals appearance. James has lost four NBA Finals. That can never compare to Jordan, but Curry so far is one-for-one on the championship stage. We'll all be rooting for him to make it back there and make it two-for-two. It's Curry's time to shine right now: sit back and enjoy the show.