Christie stumps for Trump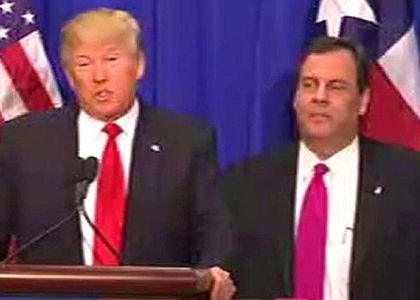 While New Jersey Governor Chris Christie's bid for the White House screeched to a halt in mid February, his stump for leading contender for the Republican nomination--Donald Trump has only just begun.
In a lead-up to Super Tuesday—when a dozen states will hold Presidential primaries, Christie campaigned for Trump in four states in less than days. Christie stumped for Trump in Arkansas, Texas, Oklahoma and Tennessee. In addition, the outspoken politician was also featured on several Sunday morning talk shows—all in support for the billionaire businessman.
Christie, who suffered a crushing defeat in the New Hampshire primaries on Feb. 9, announced his endorsement of Trump last week. Christie admitted that he and Trump disagreed on several hot button issues—including Social Security reform; immigration and national security. "I am proud to announce my support for Donald Trump as the next President of the United States," Christie said. "He will make America great again!"
One time arch enemies and bitter rivals, the two frequently spewed verbal attacks and barbs at one another throughout the campaign. However, since endorsing Trump, Christie has leveled verbal tirades against Republican GOP hopefuls Marco Rubio and Ted Cruz. Political pundits contend Christie is wooing Trump in hopes of landing a Cabinet level position in a possible Trump administration. In New Jersey, recent polls show the governor's approval rating at an all time low and many Garden State residents have been critical of Christie failed campaign bid from the beginning and most recently of his support of Trump.