Gay community targeted in mass shooting in Florida, says executive of NJLGBT organization
Gunmen had ties to NJ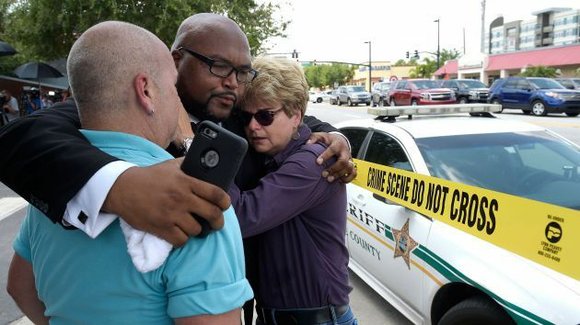 The gay community was the obvious target of a deranged mass shooter that gunned down dozens of patrons at a popular Orlando, FL nightclub, according to the head of one of New Jersey's largest NJLGBT organizations.
Christian Fuscarino, executive director of Garden State Equality—a New Jersey based support and education organization for the lesbian, gay, bisexual and transgender community, said the perpetrator "entered a gay club and took the lives of 50 members of our community....it was targeted," Fuscarino said in a statement to the media last week.
According to various police and media reports, a 29-year-old gunman named Omar Mateen of Port St. Lucie, FL entered the Pulse Nightclub-- a popular gay nightspot in the heart of Orlando at about 2 am. on June 12 and opened fire—killing 49 people and wounding 53 others—some of whom remain in critical condition. Mateen was eventually shot and killed by police following a 3 hour standoff. Law enforcement officials, including the FBI are continuing to investigate Mateen's motives and background. However, preliminary interviews with the shooters father and ex-wife report that Mateen despised homosexuals and may have supported religious fanaticism—including radical Islam and may have had ties with militant groups including ISIS and was interviewed by the FBI in 2013 and 2014. However, new reports have surfaced and alleged that Mateen may himself been gay and the shootings the result of a psychotic breakdown stemming from questions regarding his sexual orientation, including reports that he frequented gay chat rooms online.
The killings are the worst gun massacre in American history—with the carnage exceeding the Virginia Tech shootings in 2007 (33) and the Sandy Hook Elementary School murders in 2012 (28). President Barack Obama called the massacre "an act of terror" and said the shootings are "a sobering reminder that attacks on any American, regardless of race, ethnicity, religion or sexual orientation is an attack on all of us." Lastly, Fuscarino who assumed the reins of Garden State Equality in May, said his organization is working with the Department of Homeland Security and various other state and local agencies to "ensure that the LGBT community in New Jersey feels safe and protected." The names of the victims have been released and several have ties to New Jersey including the shooter's former wife who lived in Edison.
In a related development, Mateen's former wife, Sitora A. Yusufiy has disappeared following recent disclosures from law enforcement officials that she may have had prior knowledge of the attacks and is under investigation. There are also reports, including an alleged video of Yusufiy entering a gun store with Mateen. Yusuify, who now lives in Colorado, resided in Edison as recently as December 2014, according to records from the New Jersey State Division of Elections.