Flourishing house flippers, interior designers at home on HGTV
Ronda Racha Penrice, Urban News Service | 6/20/2016, 2:46 p.m.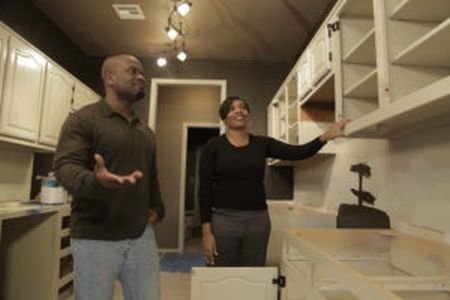 Home flippers and interior designers are thriving in the rebounding real-estate sector — as seen on TV.
With an average gross profit of $55,000 per home, it's little wonder that home flipping is attractive. Home flips — reselling properties within 12 months of purchase, usually after some renovation — were up in 83 of 110 U.S. cities, according to RealtyTrac, the leading national source of housing data. And husband-and-wife flippers Daniel and Melinda Wiafe, stars of HGTV's Flipping the Heartland, have been getting their slice of the pie.
Flipping the Heartland, which began as Five Figure Flip in spring 2014 and currently re-airs on HGTV Canada, shows the Wiafes — with their son Malachi in tow — buying, rehabbing and selling houses in and around Tulsa, Oklahoma, where Melinda's roots run deep. Being on TV was never a goal, however, until Daniel's many online real-estate marketing videos caught the eyes of a production company associated with HGTV.
"They were stalking me," says Daniel. Never imagining his ticket to HGTV was on the line, Daniel didn't respond until the sixth or seventh call. But being on HGTV, Daniel says, has been great for business.
"If you appeared on HGTV, then people hold you more credible because that's an authoritative badge that you can wear in your real-estate business," says Daniel, who moved the family to Las Vegas, where year-on-year local home sales rocketed 211 percent in March, according to RealtyTrac. "It helps with dealing with real-estate partners, getting money; it helps with coaching programs teaching other people how to flip real estate."
Inspiring others is an added bonus, notes Melinda. "It helps to see that there are African-Americans that are doing this," she says.
"Most of the time, when you see people on TV, they're investing in mostly West Coast places. So you're looking at over $300,000, $400,000, up to million-dollar homes, and it doesn't seem too realistic to the average flipper," Melinda says. "Well, we are flipping homes that are like $80,000, and putting $50,000 in [for] rehab," she says about Tulsa, where final flip sales average $177,735. "I heard a lot of people say 'Wow, now that's realistic. Those are things we can do.' "
With home flips, sales of new and existing homes and home renovations up, there are increased opportunities in interior design, too. And Tiffany Brooks is among the best known in her field. Ever since the married mother won HGTV Star in 2013 — seven years after she started her own interior-design firm — she has become one of the industry's brightest stars. Today, beyond running Tiffany Brooks Interiors, the naturally charismatic Chicagoland native has been hosting the show/event HGTV Smart Home 2016. In July, the program will give away the dream home she has been beautifying. Her other HGTV shows include HGTV 2014 Smart Home Giveaway and Most Embarrassing Rooms in America.
Average annual salaries for interior designers are $48,840, the U.S. Labor Department reports. And more than 80 percent of these professionals are overwhelmingly happy, according to a 2012 Interior Design magazine survey.