Obama, Trump, lawmakers react to shooting in Orlando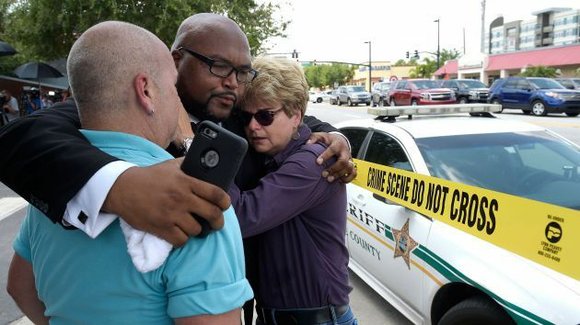 Sen. Bernie Sanders of Vermont, who remains in the race for the Democratic nomination, called the shooting "horrific" and "unthinkable."
"We should not be selling automatic weapons which are designed to kill people," Sanders said on NBC's Meet the Press. "We have got to do everything that we can on top of that to make sure that guns do not fall into the hands of people who should not have them, criminals, people who are mentally ill. So that struggles continues."
Congressional leaders also reacted with horror to the shooting.
"We are horrified and heartbroken to see such hate leveled at so many people hoping just to spend a night out dancing," said House Minority Leader Nancy Pelosi, D-Calif. "Our hearts ache for all those killed in this senseless attack, and we pray for the swift recovery of all those who were wounded. While many questions have yet to be answered, the pain of this attack in a mainstay of the Orlando LGBT community is surely magnified as our nation celebrates LGBT Pride month."
"We will not allow hate and terror to succeed in blinding us with fear," Pelosi added. "
House Speaker Paul Ryan, R-Wis., wrote on Twitter that he is praying "for those brutally attacked in Orlando."
"While we must learn more about the attacker, the victims and families will not be forgotten," Ryan tweeted.
Members of the Congressional LGBT Equality Caucus today said they were horrified by the shooting.
"Though details are still emerging, an attack during Pride Month against Pulse, an iconic gathering place for LGBT Floridians, has a particularly insidious impact on our entire community," said Roddy Flynn, the group's executive director. "Our thoughts and prayers are with everyone affected by this tragedy."
Congresswoman Gwen Moore (D-WI) released the following statement:
"My heart aches over the tragic events that took place last night in Orlando, Florida. As details about this horrific incident emerge — including the background of the perpetrator — make no mistake, this was indeed an act of terror. This savage act was carried out in an effort to intimidate and terrify our LGBT brothers and sisters.
"This senseless loss of life transpired in a club that was meant to be a safe space for an already vulnerable group of Americans, but we must never forget that an attack on the LGBT community is an attack on all of us. As we mourn for those whose lives have been touched by this act of barbarism, we must do everything in our collective power to put an end to the attitudes and behaviors that help cultivate a society where such hate can come to fruition."