Obama says Clinton most qualified to be president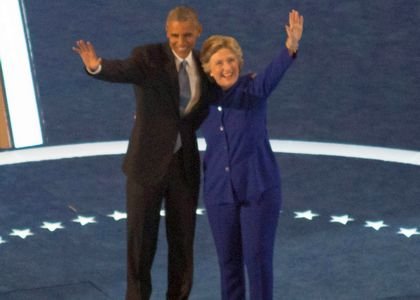 The energy of the crowd on the third night of the Democratic National Convention appeared to intensify as an impressive and diverse line-up of prime-time speakers addressed the delegates. Most spoke primarily on the intelligence, strength, judgment and toughness of the party's nominee, Hillary Clinton.
The emphasis of many speakers was to underscore Clinton's ability to serve as the nation's Commander and Chief. From Senator Tim Kaine of Virginia, who Clinton selected as her vice presidential running mate to the former CIA Director and Secretary of Defense, Leon Panetta, who said "Hillary has the judgment and temperament to be the Commander and Chief, to the current president, Barack Obama who made the keynote address. Obama said "Hillary won't relent until Isis is destroyed, and that no other person was more qualified to be the president of the United States including himself and her husband former president Bill Clinton.
Obama urged the crowd to support Clinton with remarks that drew a response from the crowd such as …" keeping kids and cops safe" by taking on the gun lobby and ", "Don't boo, vote" in reaction to comments and actions he attributed to Donald Trump; "…The American dream is something no wall can contain"; …Democracy works but we have got to want it, not just during an election, but all the days in between; and … we don't fear the future, we embrace it…stronger together than on our own and that is what Hillary believes…". Obama also said in his address, "America is already great", and that the values of the nation have not changed and he spoke of his grandparents from Kansas who taught him those values and that they are held by Americans, "no matter if they wear a cowboy hat, a yarmulke, a baseball cap or a hajib.
Clinton walk onto the stage at the end of Obama's addressed and embraced him and the crowd responded with sustained applauses.